Understitching is the technique of topstitching the seam allowances to the lining or underlining of a garment.
After the seam is graded and clipped/notched, the seam allowances are pressed toward the lining.
Working from the right side of the lining, sew about 1/8″ to 1/4″ away from the seamline catching in the seam allowance underneath.
Press the seam edge flat with the lining on the inside of the garment.
Below is the back view of a cotton Regency dress.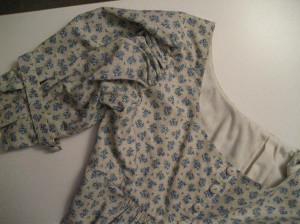 For detail, you can see the understitching on the neckline. Notice the stitches only show on the inside underlining fabric and not on the outer fashion fabric side.
Most often understitching is used on necklines with their facings or linings and on opening edges with separate facings or plackets. Use this technique to keep the lining fabric in place (on the inside of the garment). Stitching the lining to the seam allowances prevents the lining from rolling to the outside and being visible.
What 19th Century sewing tutorials are you interested in? We want to see you succeed in your projects! Tell us how.