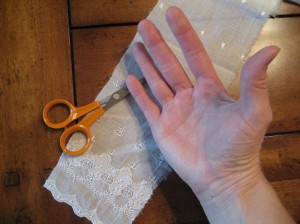 Summer always seems to be full of sewing projects. I don't know about you, but with balls, soirees, teas and costume gatherings my sewing table is piled with stuff to make.
With all this busy sewing comes weather I'd rather see pass on quickly. Heat, high humidity, rain storms (or super dry weather if you're in the desert) and a blazing sun make for challenging conditions to keep up with all the projects due.
So as you're trying to stay cool under fans, air conditioning units and ice tea, here are a few tips for keeping your hands clean while plowing the thread fields.
1.       Wash your hands often. This goes for both machine and hand sewing. I'm constantly washing my hands as I sew because textiles can have lots of grime embedded in the fibers that can rub off onto the hands (and other surfaces too) – even if they're pre-washed.
Also, in the normal course of working with scissors, awls, pins and the iron, our hands naturally produce oils. This can give me sweaty hands. So I wash regularly. And if you're pattern drafting, washing your hands is especially important. You don't want pencil lead to get on your fabrics.
2.      Clean your hand needles with an emery strawberry often. The rough sand will help with the hand oil build-up. But they don't last forever, so…
3.      Throw out your hand needles after using them with several projects. After prolonged use, the friction on the steel needles (from both skin and textiles) will cause oils and dirt to stick to the needle making it hard to push through fabric.
I confess I'll stick my used needles in a corkboard and reuse them over and over. Probably TOO much past the point of throwing away and getting new ones. I'm always buying new hand needles but don't throw away the old ones!
4.      Don't apply a greasy lotion to your hands right before sewing. Put it on at least ½ hour before so it can get absorbed into the skin. If you have a dry hand skin problem, try applying lotion before bed, when you get up in the morning, and at other times – just not before sewing.
5.      Turn on a small fan near your workstation so you can cool off your hands whenever they start to feel warm. This will keep you cooler too. And when your body temp is cooler, your hands will not sweat. I like to hold my hands in front of a fan every so often just to dry out the perspiration that's on them, then wash them when that stops working.
6.      To go along with #5, if you're working with heavy fabrics or project, keep it off your lap as much as possible to keep your body cool. Throw it on a side chair or sofa arm or even your cutting table as you hand sew.
7.      And lastly, keep hydrated with water, and in moderation, tea. In any season this will help your hands stay soft so you use less lotion, which in turn helps excess oil from forming.
Sweating is the body's natural process of cooling down. Keep yourself cool and hydrated and you'll avoid Sweaty Palm Syndrome.
What other methods do you use to keep your hands cool and un-sweaty?