When you're duplicating a historical garment, how do you find the perfect fabric from today's available textiles? When do you deviate from the dream in your head to what is available on the market? How do you compromise with your costume vision and your budget?
I made the trek to downtown LA and the fabric district with my friend lana/Lily for a very quick run through of about 9 stores to find silk taffeta. I was looking for purple fabric to re-create the gorgeous 1873 day dress at the V&A.
That dress is in all ONE color – not even the flat piping or buttons are in a contrast fabric. As much as I wanted purple ('cause purple rocks!), I was open to other shades of purple or blues or even teals knowing that the original purple color was going to be a hard find.
We ran first into Home Fabrics on Wall St. where they have the most amazing assortment of silks. The plaids and stripes called to us and we drooled over the possibilities until we remembered we were there for solid color taffeta. oops! Stay on target!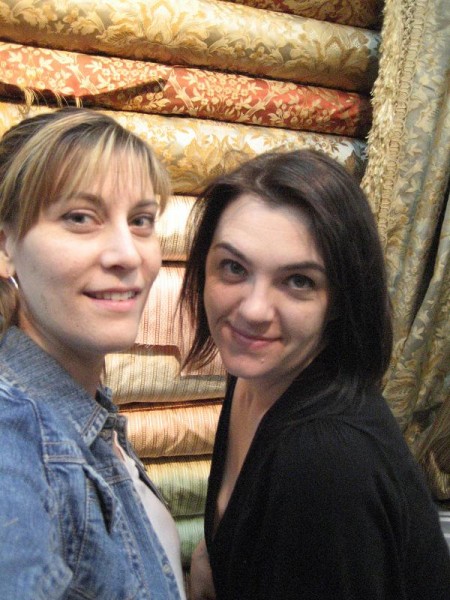 We took several swatches of a dark purple and a strawberry cream color and also a modern pink/gold shot that would definitely make for a Wow dress.
Onward we ran – through the stores asking for taffeta, seeing the same yellow silks popping up (must be the IN color for spring) and stopping for more drooling over printed sheer cottons that would do very well for a new Regency or Romantic Era dress or two. 'sigh'  Oh! but, no, we can't go there… yet….
Back and forth, across the streets, not getting hit by cars, weaving around the shoppers, ignoring the shopkeeper who purposely walked across our path either to annoy us, stall us or get us to stop and look in his shop – yeah, don't think so dude with that attitude! And passing food carts that wafted of hot dog and barbecue scents. All this under a perfectly clear LA sky and 72 degrees.
We ended down at Michael Levine's on 9th where lana/Lily picked up some thread on sale before rushing back up the street.
The lack of taffetas is giving off the unpleasantness that perhaps they are fading out of style right now. A sad thought for us costumers. Here's where we have to deal with what the fashion industry is presenting at the moment. It forces us to bend to their decisions and manipulate our own projects to obey.
So back at Home Fabrics I looked at my purple and pink swatches again, this time adding a royal blue to the mix. They're good – but then I reevaluate the price of the high-quality silk versus the cash in my pockets. "Let's take one more look through the clearance rolls" my friend suggested. (I honestly didn't want to leave empty handed even if I had a backup choice available from my friend, Diana's, Renaissance Fabrics.)
Then she pulled up a decent sized roll of lavender silk. It looked like the yardage I needed. You had to buy the whole roll – but for $8 a yard, the price sort of started overruling the desire for the exact grape color of the original gown.
Yeah, I could be happy with that. It suits my personality. The pretty purple we found initially was VERY Victorian and close to the V&A color. But at $23.95/yd, it was giving me a heart attack. The pink that was the 2nd in line, after a brief consideration, was too modern of a color. Although beautiful and would make a stunning dress, I wanted to stick with more of a Victorian color.
So the lavender won out. It's Victorian, sparkles with a pink undertone, will brighten up a ballroom under low lights, and with that price, just too hard to resist. My pocketbook is in relief. I felt great coming home with 13 yards of silk for my new dress. Now on to the  pattern and first fitting….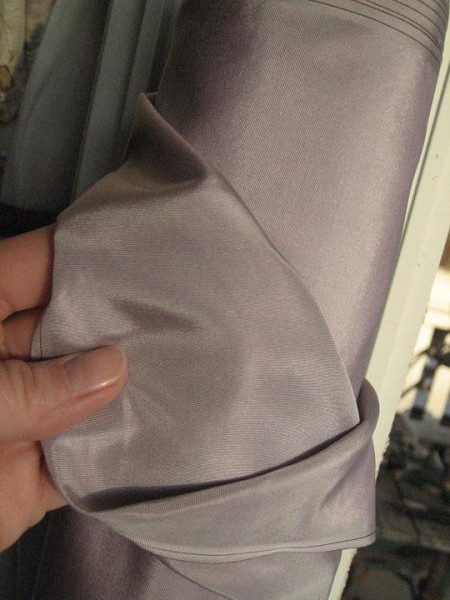 Oh, but I did manage to cave into one of those yellow silks – a perfect 18th C. mustard color that will be made up into a pretty little spencer jacket for Jane Fest. Oh, how we could just imagine a fabulous 1770s robe a la francaise in that color. But I'll leave that for another time….