Moonlight Serenade by Glenn Miller popped up next on my iPod. As I listened I thought of some friends who love the 1930s and 40s. They are World War II reenactors, swing dancers and club hoppers. They scour vintage and second-hand shops looking for that "new" fur wrap or handbag to add to their vintage wardrobe.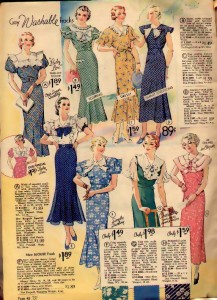 These friends are also avid collectors of knick-knacks, gadgets, dishware, music and hats of these mid-20th Century decades. Many times they'll sew new wardrobe pieces directly from the sewing patterns of the period.
Now, these years are not really all that long ago – 60, 70, 80 years in the past. Our parents and grandparents are products of this era. We might even get to chat with our living family members about their memories of this time.
But it makes me wonder…
If I have 30-something year-old friends who try to capture the essence of 75 years ago, were there people in 1936 who relished the  quintessential 1861? (Let's imagine before the Civil War started.) Was there that one daughter who just couldn't get enough of playing dress-up in her great-grandmother's wedding dress? Or the passionate hoarder of anything Victorian?
Sometimes there's this great challenge for those of us who re-create the past through clothing and participate in living history events to fully take part in modern 21st Century life. I mean, if I want to add in the romance of yesteryear into my life, how do I do that without alienating my family and friends?
How do I merge my idea of a lavishly decorated Victorian Queen Anne house into a welcoming pad ready for a Superbowl party?
If I'm thinking on this, then how did my ancestors in the 1940s blend their romantic ideals of history into their war-torn community? Did things like "living history" programs even exist to inspire others to take up sewing a dress from 1872? Were people even interested in such things?
We do know from published photographs that our Edwardian ancestors loved the Regency era. However, most of the garments they wore in those pictures were primarily originals, not reproductions.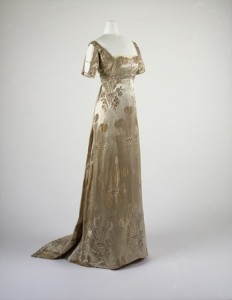 Where are those clubs of girls who ardently begged their mothers for yards of silk to make a dress from the time Queen Victoria took the throne? It seems so absurd that they would do that.
So why do we do it today? What makes those of us "born in the wrong century" desire a closet full of fashions from over a hundred years ago? And has our leisure time increased so much with the use of technology that we now go looking for things to do and, for some of us, that's sewing non-essential garments?
Surely there must have been some who longed for the past to make an appearance in their modern lives. What do you think? Do you think our ancestors developed a form of escapism that included reproducing the past?