Now how lovely are these three head pieces? Those Romantic Era ladies had some design imagination to come up with these large feathered and laced-up toppers. Which one do you like best?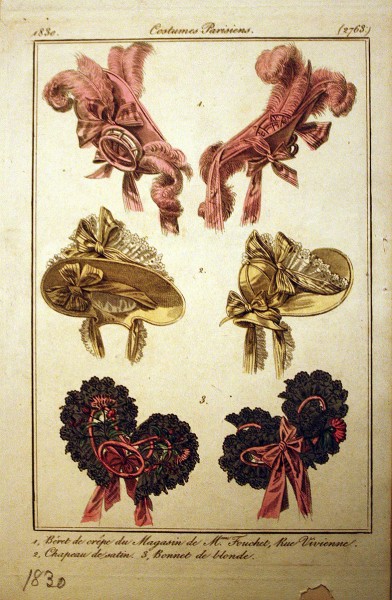 The top and bottom hats are made from wire frames covered with fabric or ribbon. The top pink one having a buckram plane attached to the top of a wire crown. The bottom bonnet's wire extends above the wire circle forming almost a heart shape where the deep lace is then tacked on.
The crown on the middle yellow chapeau looks so similar to our modern-day baseball caps – but with a large duckbill attached. How strange?
Don't forget your bows on your 1830s bonnets! They are not to be missed in the 1830s.
(Plate provided by Julie Burnsides of Snapdragon Design.)