Victorian Undergarments Class
On-Demand Class gets you started today with finished projects achieved on your own schedule!
Are you new to historical costuming and don't know where to begin? Perhaps you've been sewing period clothing for a few years but you've never sat down to make a set of undergarments (yeah… you know who you are!).
Or maybe you're like me and simply need to replace the well-worn items and would love to do so in a sewing group setting?
My friends, you've come to the right place! My undergarments class is for YOU who want to get into historical costuming and not just dream of the past but dress in the fashion too. It's for those of us who put undergarments last on the sewing list. Time to get 'em done!

 
Through 6 weekly lessons (unlimited access class plus workshop time), we'll cover four undergarment projects so you'll be ready for the real dressmaking. Each lesson has a minimum of 5 video tutorials (and many lessons have many more) along with an accompanying PDF handout complete with homework assignments. This is a real sewing class!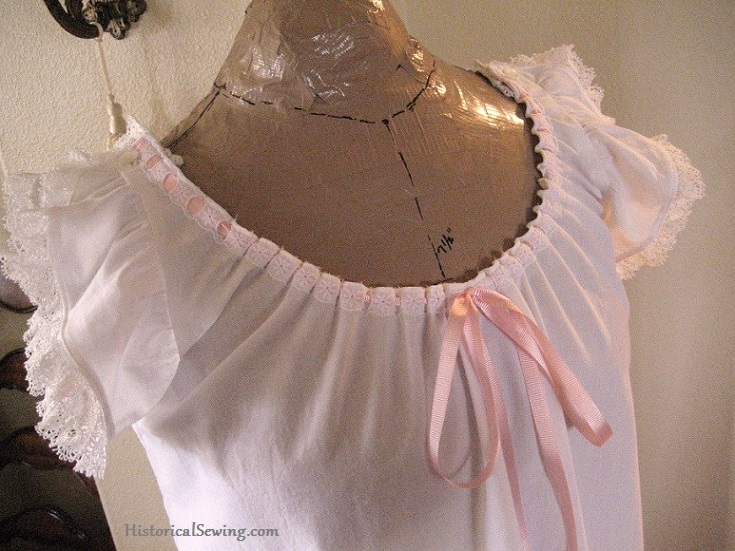 This is an Beginning to Intermediate level class. You should know how to operate your sewing machine and understand basic sewing techniques such as seams, topstitching, gathering, and basic hand whipstitch. Alternate finishing processes will be touched on but for the most part we'll stick to the patterns.
The priority is for you to practice simple sewing methods while creating beautiful Victorian unmentionables. By practicing the basics your more advanced designs in dressmaking will become easier.
This class will focus on sewing specific undergarments suitable for Victorian dress, primarily 1870s to 1900. The objective is to build basic sewing skills and techniques. We'll explore various seams, trims, and good dressmaking habits to successfully complete a full set of undergarments.
"Jennifer – I want to say that… I also have been sewing a long time and my new Victorian underwear looks better than anything I've ever made before. These lessons have un-done eons of self-taught bad habits and helped me become a much better seamstress in a very short time" ~Constance T.
Exciting Lesson Plans Prepared for You:
Lesson 1: Discuss fabric selections, patterns, and taking measurements
Lesson 2: Sewing the chemise
Lesson 3: Sewing the drawers
Lesson 4: Making a lobster tail-style bustle support garment
Lesson 5: Sewing a tiered, late Victorian petticoat, part 1
Lesson 6: Finishing the late Victorian petticoat, part 2
NOTE: We will be making the above items. A corset and other dress items are not covered in this class.
Although undergarments are quite simple, really, and for some a pattern isn't needed. It's nice to start with drafted shapes and concentrate on improving the sewing skills. 
For this class, we'll be using the ever popular Truly Victorian patterns. Specific patterns covered include: TV#102, TV#163 and TV#170.
As with all of our classes, you may choose to use other patterns but be aware that the specific steps of each lesson will cover the Truly Victorian patterns.  
Valuable Skills & Techniques You'll Learn:
Fabrics to use for soft undergarments and sturdy petticoats

A variety of seam finishes

Pressing tips – when and how

Pleating and gathering tips

Special tools when working with hoop wire for bustles

Pleating by the Divide & Conquer method

Easy steps for even gathers

How to make tucks in a petticoat

Tips for fitting your skirt over your new bustle & petticoat
 "Thanks, Jennifer…. I have learned quite a bit and consider myself a more skilled historic dressmaker than I was a few months ago!" ~Terri A.
 "Your videos are wonderful!!! Keep up the great work. I have learned so much from your class – can't wait to take another one!!!" ~Maureen Larsen
"I learned so much in this class and was really pleased with the experience. It was, honestly, better than I expected and I have made some of the best looking garments of my sewing career." ~Anonymous from exit survey
Beginning to Intermediate Level Class
If you have sewing experience but are new to historical garments, you will feel quite comfortable here. We'll be following the patterns closely so you should be able to keep up with the class just fine.
If you are new to sewing, this class was created for you! Although, we do ask you know how to operate your machine and have a few hours of basic sewing under your belt.
If you are advanced in your sewing skills, you are welcome! Many of our students are advanced but take the classes simply as a means of accountability. And a way to get those forgotten projects DONE. 🙂
No matter your level, we all have methods we can share with each other. 

On-Demand Online Class: $57.00
Includes all 6 sewing lessons with unlimited, 24/7 access, additional instructions, and several fun sewing projects!
Be part of this exciting program of online sewing lessons! I'll see you in class!
P.S. The class lessons are entirely online and self-paced with no specific day or time required to be online. You work at your own speed and schedule. Read the lessons and watch the videos when it's most convenient for you. 
For more info on our online workshops, please read this page. No refunds will be given for online workshops. Unlimited access online classes are covered under our 30-Day 100% Satisfaction Guarantee. Please see our full terms of service here.
Jennifer Rosbrugh, DBA HistoricalSewing.com, is an affiliate of Amazon.com and Truly Victorian.