Bonnets – A Fitting Start
By: lana/Lily
Sometimes they inspire a new dress design, sometimes they are the finishing touch, and sometimes they are the pièce de résistance of an ensemble.  No matter where they are in the design process a Bonnet can be a work of art!  These small but mighty creations are miniature sculptures of deliciousness that can range from demure to extravagant.  Where is your Bonnet!!!
Requiring a minimal amount of materials, bonnet projects offer the perfect opportunity to splurge on that excessively expensive fabric you have been lusting after.  Though construction can be time consuming bonnets are less work than a new dress and yet still provide the same feeling of accomplishment.  Despite these positives, many costumers are intimidated by millinery work.  So to help you on your way to making your own bonnet, let's start with the issue of fit.
If you have been following HistoricalSewing.com for any length of time you realize that making a mock-up of a new pattern is essential to the success of the final garment.  So too with a new bonnet!  Unless you have been lucky enough to try on a friend's bonnet to check the fit of a pattern, making a bonnet without a mock up leaves you open to being disappointed with your final result.  Mocking-up a bonnet is a quick process and well worth the effort.
Shown here is a mock-up and finished 1860's spoon bonnet.  You can see that the mock-up is an accurate representation of the finished shape, allowing you the opportunity to "fit" and adjust the pattern to create the most flattering shape for your face.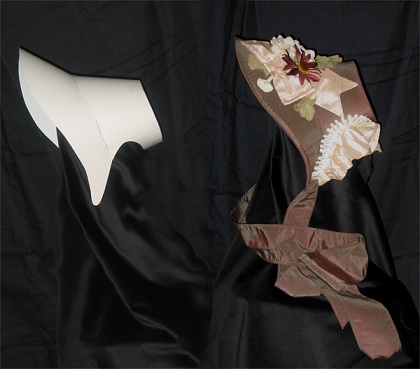 Creating a Mock-Up
I recommend making your mock-up out of tag board/poster board.  Available at office supply stores and craft stores, this easily located and cheap material is ideal for this project.
Trace your buckram pattern pieces, only, onto the poster board.  Include the location of seam allowances and mark these clearly with a solid line.
Cut out your pattern carefully.  Hat patterns have a very small margin of error, due to their small size, so be sure to cut along the inside of your traced lines.
Clip all seam allowances. Start by clipping approximately every ½" along the seam allowance, all the way to the seamline. The amount of clipping necessary will vary by pattern; more can be cut later if needed.
Begin assembling your pieces together using tape. (You can use masking tape, painter's tape or transparent tape.)  Use short pieces of tape across the seams.
Match seamlines as closely as possible and, where necessary, clip the seam allowance to achieve a smoother curve.  Crown pieces should be attached to each other first and the brim added last.
If you tape together pieces incorrectly, cut the tape don't try to remove it.  Additionally, if pieces are not staying together with tape alone cut pieces of poster board ½" x 1" and tape these across the seams for additional support.
5. Try your poster board bonnet on!
Now that you have finished your mock-up the question comes:
Does it fit?
Here are a few questions to ask yourself when trying to determine your reply.
Am I wearing the bonnet the right way? Take a look at the way the bonnet is worn by the model on the pattern, in fashion plates of the period, and in original pictures from the era.  Remember, some bonnets will not stay on without hat pins.
Are you wearing the right hair for your bonnet?  Historical hairstyles with or without hair pieces add a significant amount of girth to your head's silhouette and will affect the way a bonnet sits. Additionally, if your hairstyle does not match the period of your bonnet the location of the crown will be misaligned with your hair's location – rather like two puzzle pieces that do not line up correctly.
Is it flattering?  Keep in mind what "the look" of the era is.  Did the era favor a round face or a narrow face?  However, to be happy with a bonnet you will want to feel pretty in the modern sense as well as the historical so be sure you like the way you look in your bonnet.
Fitting Tips
If you need to adjust your bonnet to make a more flattering style, consider adjusting the outer edge of the brim first.  For example, a narrow face wearing a tall brim, will accentuate this feature, but by reducing the height of the brim by ½" to 1", a more flattering style may be achieved.
Use your poster board bonnet to test these changes, and use your adjusted pieces to make your final pattern.  Making changes to seams where pieces attach to each other can be challenging, as matching changes will be needed for all corresponding pieces.  But remember at this stage bonnet materials are cheap and the investment of time is small, so have fun and try as many adjustments as you like!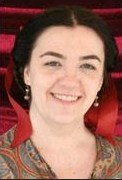 lana/Lily is a lover of history, with a passion for detailed research of historical clothing. She received a degree in Fashion Design from FIDM which led to her work as a designer of custom wedding gowns for a number of years. Involvement in the Costumer's Guild West resulted in the honor of being Dean of Costume College 2007.
More than 15 years as a historical reenactor has led to a considerable amount of effort researching historical patterning and construction techniques from a variety of eras. This commitment to historical accuracy culminated in the inclusion of a group reproduction of Winterhalter's portrait of "Empress Eugenie and her Maids of Honor, 1855" for Costume Con 2008, where they competed at the Master Level and were awarded Best in Show.
As a founding member of the Historical Citizens Association, lana plays the 1860's persona of Lily Cressman, a moderately wealthy widow who is searching for her next "wealthy" husband. Currently, following in her great-grand mother's footsteps as a milliner, lana is designing a line of Mid-Victorian bonnets that she looks forward to offering
to Civil War reenactors.