Victorian Corset Sewing Workbook
Demystifying Corset Construction:




How to make a corset with clear, easy instructions
♥ The Victorian Corset Sewing Workbook
No more struggling with how to make a corset!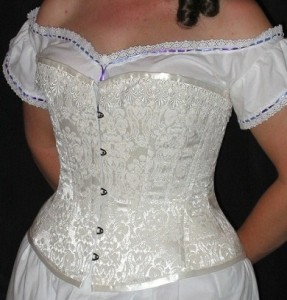 Think sewing a corset is hard? Scared to make one? Corsets aren't really that difficult. You only have to know the right supplies to get and the order in which to use them. Apply them with simple seams and you can sew a corset!
You'll learn about the fabrics and tools you'll need, then I'll walk with you step-by-step how to put your corset together. From cutting the coutil and inserting the busk to grommets and adding laces to the back when you're done – we go over it all!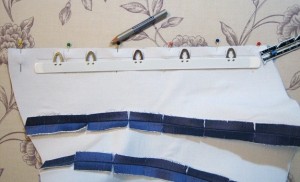 You don't have to be scared of making a corset. You may hear that they're not that hard, and they really aren't. You simply have to know the order to put the pieces together and how to use specific tools like an awl and grommet setter.
In this hands-on workbook, I'll take you through each step of building a corset. With detailed instructions and full color photos to make each step easy, you'll wonder why you waited so long to tackle sewing a corset!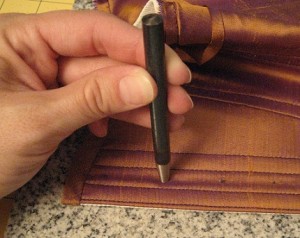 Workbook covers:
Corset fabrics to use and how to pre-treat them

Detailed list of supplies & tools needed and where to get them

How to cut out a corset then flatline it with fashion fabric (so it's not only pretty but built correctly from the start)

Piecing the corset panels

Setting in the busk (the right and easy way)

How to make boning channels

Tips for measuring bones

Finishing the raw edges for a professional look

How to set in grommets for a smooth & tight finish

Sewing Tips gleaned from years of corset making  

Dealing with corset storage and cleaning

How to wear your corset so you can still eat, dance & not faint

Other helpful tricks when sewing corsets
and much more!
You'll also get my recommended vendors & online suppliers for corset making materials, including patterns. It's all here!
"Hi Jennifer,
I thought you might like to see what your tutorial helped me create.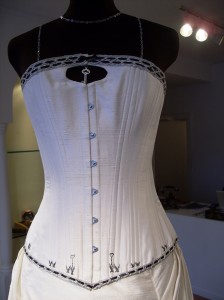 I just delivered it to a local gallery that's having a steampunk exhibit. Having your book made all the difference. Thank you so much." ~Patricia Francisco
The disclaimer: your first corset won't be perfect. They never come out perfect. Even the most talented seamstresses and tailors continue to push forward to make their next corset even better. But don't let that stop you.
This workbook is only for those who are challenged in their historical sewing and want to push themselves to the next level of costuming. Will you give it a try? 
COST: $

37.00
SPECIAL OFFER: $24
All Historical Sewing digital products are covered with a 60-Day 100% Satisfaction Guarantee. If you are not completely satisfied and find no use for the product, simply send us a quick email and we will happily refund your purchase price, no questions asked.