Corded Petticoat Pattern
Historical Costuming… Starts with the Foundation
Detailed instructions on how to make a corded petticoat!
Anyone who's done research on historical clothing has surely come across the garments that support the silhouette. This is especially true for the Romantic Era (1820s & 30s) and Early Victorian time (1837-1850s).
Corsets & chemises aside, you've probably uncovered the elusive undergarment – a petticoat full of cording to help support the skirts.
No doubt, you have your own thoughts about how this garment is made. But yes, it is basically cotton cording sewn into cotton or linen fabric. Not hard, huh?
But did you know

there are two process

es

to make that happen? The original 1830s/40s corded petticoat below is made with both. Isn't that cool?
Well, no more guessing! In this pattern workbook you'll find the 2 methods to sewing a corded petticoat clearly presented with full color construction photos, written instructions and measurement examples.
I've written it all out so you only have to follow along!
In this valuable handbook I'll show you how to get the precise silhouette you're dreaming of.
What you get in this detailed handbook:
Modern fabrics you can use
The variety of cording options available
How far up you should sew the cording
The number of rows that will give you the support you need
The good & bad about the two sewing methods
Helpful tips & tricks as you go along
How to avoid the vertical seam break in your finished petticoat
Balancing the cording rows to the hem
To starch or not to starch your corded petticoat (with instructions on how if you want to)
A comparison of measurements from several surviving original corded petticoats specifically so you can adapt the information to your own project – No better way to make something like they did than copy their work exactly!
and much more!
A corded petticoat is perfect for supporting costumes for Dickens' Fairs, Gold Rush & Alamo events.
But don't delay! As easy as this petticoat is, it'll eat up your sewing time. This project is best done over a few weeks so you don't go crazy with straight stitching.

Before hoopskirts, women would purchase fabric with cords already woven in to make their petticoat (weren't they lucky?). Or they would spend time hand sewing in dozens of rows of cording, rope, strips of linen, or wadding (scraps of raw wool) to stiffen a plain cotton or linen petticoat.
You don't have to do that unless you want to. All the instructions here assume you are machine sewing. But if you want to make your petticoat close to authentic, you'll want to hand sew everything.
This pattern workbook is the culmination of all my research & sewing of corded petticoats so you don't have to! The trial & error for an easy to sew & supportive undergarment has been done already.
You deserve to not struggle with all the questions surrounding these obscure petticoats. And you'll only need to make one if you do it right the first time.
Let's work together, step-by-step with no more guesswork.
Warning: If after you sew a corded petticoat with these instructions and you fall in love with the loveliness your new garment – you might end up wearing it with no dress to cover it up!
Grab your copy now & let's get sewing!
DETAILS:  Digital workbook in PDF format for easy reading.
COST:

$ 27.00
SPECIAL OFFER $ 11.97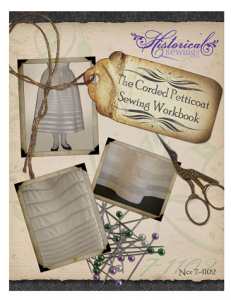 All Historical Sewing digital products are covered with a 60-Day 100% Satisfaction Guarantee. If you are not completely satisfied and find no use for the product, simply send us a quick email and we will happily refund your purchase price, no questions asked.