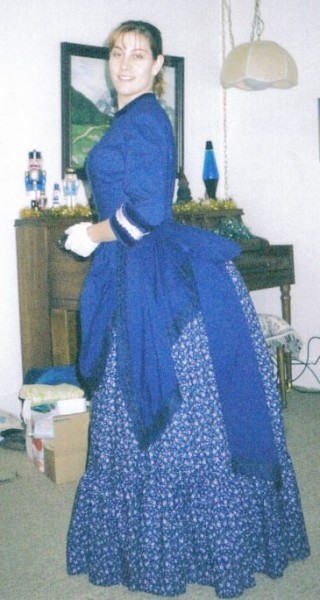 For a newcomer to the world of historical costuming it can seem overwhelming. "Where do I start? What should I make first? What about my hair, my shoes?"
Perhaps you've sewn a few period things but want to branch into a new time period. You don't have to be a newbie to feel like a beginner when attempting new historical clothes. You simply need to know what to focus on making first.
Where Do You Start To Build An Historical Wardrobe?
When studying historical fashion, how do you describe a particular era? If you were to explain what 1890s styles looked like, what would you say? How is Regency different from the 1840s?
When answering these questions, you are generally talking about the silhouette of the period – full skirt, puffy sleeves, slim appearance, droopy look, etc. If you want to make a Civil War outfit, you look first at the overall dress. But what you need to focus on to re-create it is to start with what makes up the silhouette.
To accomplish the general look of the fashion period you need to start with the undergarments and structures that support and create the silhouette. You may have heard the phrase "build your costume from the skin out." Well, that is exactly true.
What makes a Civil War dress look the way it does with that large domed skirt and fitted bodice? It helps to think of your new project in terms of how you will get dressed into it. What do you put on first?  Then what next? Of course, research on the era you want to produce is the essential first thing to do. Once you know the layers of the era, you begin sewing, or building, them from the inside out.
Let's get that silhouette shape started!
Undergarments
For nearly 100% of the costumes we make and wear, there will be an article right next to the skin. This will be a shift or chemise – they're rather like a nightgown. Easily laundered, a chemise is made of cotton or linen and protects the outer dress from body oils & sweat. You want this basic garment simple because it will take the most wear and be washed often.
I have friends who started out wearing a modern cotton tank top under their costumes. It'll work but there's nothing like putting on a chemise to get you in the mood for time travel.
If you have time, make up a pair of drawers, also in cotton or linen. An open crotch seam (unsewn) is period accurate for functional reasons. Don't be afraid of them.
Corsets
Next comes your corset or other supportive garment. This really is an essential item when dressing up in period clothing. Corsets are not (and should not be) uncomfortable if made to your measurements. Don't let the bad rap of corsets coming out of Hollywood detract from you wearing one. Women for over 400 years have been wearing them. I don't think they would have lasted that long if they were painful.
If you don't want to or can't make a corset, get one custom made. They're not all that difficult to make and only require a straight stitch machine.
Support Structures
Corsets help lift the bust and narrow the waist – the ideal garment to produce your desired silhouette! They create a smooth surface at the waist for hoops, bustles and petticoats to sit, distributing the weight around the body and off of the lower back. For a historical wardrobe, a corset is indispensible. It's rather more functional than anything but you can also make them pretty as well.
So now that you have your chemise, drawers and corset, next you'll need to know what support structure produces your chosen fashion. This is where you'll spend some time making up those more involved projects – a hoop, bustle, pad and/or petticoats. Again, research the era to know what you'll need. At a bare minimum you'll need at least one petticoat but I highly recommend two to three – depending on the era.
Once you have the basic foundation garments you can proceed with your dress. Your simple chemise & drawers can be used for most 19th Century costumes making them the most versatile garments in your historical closet. Get them made right away so you can get on with more fun items.
And remember the importance of a corset. If you had to decide on the most important garment, get to work on a corset. I can't stress this enough. You can get away with a tank top underneath and even pajama shorts, but you can't fake a good 19th Century silhouette without a corset. Sew a chemise first to get you rolling. Then attack the corset.
It's important to not jump the gun and start your main garment first.  We all at some point fall in love with a beautiful fabric and immediately want to get the gown started. If your undergarments are in place, your imagination can take off right away on that new ensemble.
Focus on sewing your primary undergarments to develop your silhouette. When you develop the correct figure, you are making garments that reflect historical styles. An improper silhouette can look too theatrical. Decide if that's the look you want. But for a true-to-life costume, get that chemise and corset done first. Once you have those done, your fashion fabric gets to come out and play.
Have you made a costume without building the foundation garments first? What did the costume look like? Would you have done it differently? Post your thoughts below.