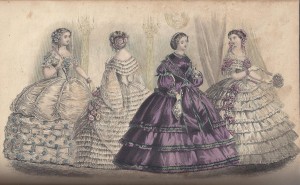 Ahh.. you can just imagine Melanie's birthday party ball right before the men go off to fight where the young ladies are dressed in their ruffled gowns trying to capture the attention of some young officer.
These gowns display the pride being monied (and a good sewing machine or dressmaker). Ruffles like these take hours to attach to a skirt. Even if you simply pink the edges and don't hem.
The lady on the far right looks like she copied Scarlett's white gown and made a matching ballgown bodice. The additional ruffle trim on each skirt ruffle adds a nice detail. (Things like this will help your costume stand out from the rest.)
The lady in the purple is a mother or spinster chaperone. The purple could be from the last few months of mourning when a widow was allowed to add a color to their black (only purples and grays). Or she could simply be donning the latest in the aniline dye color family of mauves & violets.
Our lady on the far left resembles a 21st Century cupcake. (See. Fashion does repeat itself if only in other materials besides fabric.) The tulle or net overskirt is caught up with bands of ruching. The gown looks similar to patterns offered by Harriet's patterns (a most difficult pattern line).
And let's not forget the lady with her back turned to us. Is she talking to a seated friend? Or showing us her hair bun? Or is she afraid her bodice neckline is cut a wee bit too low? Whatever the reason, we can admire the 18 rows of finely pleated ruffles attached to her enormous skirt.
What do you think? Too many ruffles? To cake like? Or just darling and can't wait to make one?