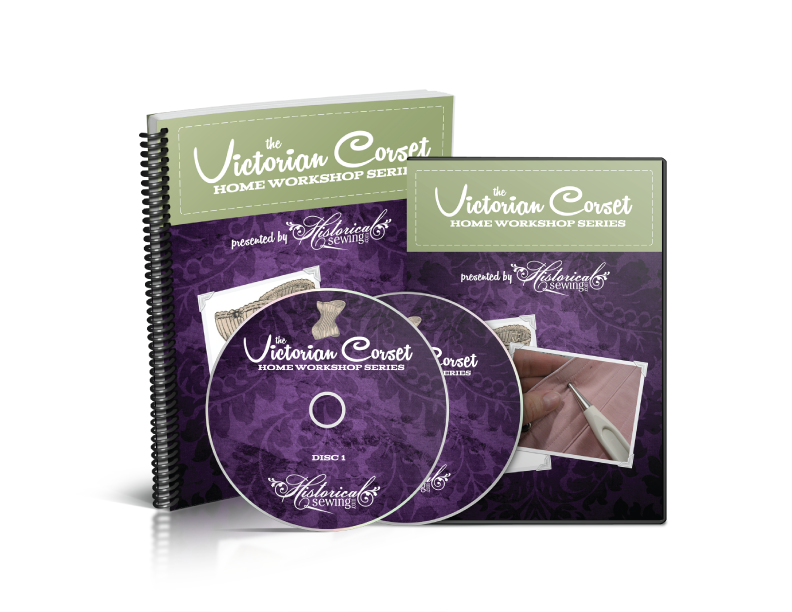 The Victorian Corset
Home Workshop Series
2-Disc DVD Album with 60-Page Workbook
Need a corset for your lovely 19th century gowns? Want to "do it right" with a corset silhouette but have no clue how to make one? Know how to make corsets but feel like you're missing something?
Then this is the class for you! It is for those truly serious about learning how to sew a Victorian corset suitable for under your Victorian costumes.
The best part? You can now take advantage of our online class at home!
Through a self-paced 4-week series of lessons, we'll cover all the bases needed for a complete Victorian corset. Each lesson has a minimum of 3 video tutorials (and many lessons have 4 or 5) along with an accompanying workbook section with homework instructions.
Dawn Burke – "Great class, Jennifer! You broke everything down into very manageable steps. Even though the thought of making a corset was a bit intimidating, nothing was very difficult. Thanks!"
This is an intermediate level workshop class. You should understand basic sewing techniques & be comfortable with your machine. But don't worry! We'll teach you how to set in that busk and grommets if they are new to you.
Advanced processes such as fitting tips and methods will be covered, but for the most part we'll stick to the pattern & its sizing.
The priority is for you to understand how you make a corset, including fitting tips, so you end up with a quality undergarment you can be proud of (and a finished pattern so you can make another one in a different color).
This workshop class will focus on the specific topic of making a general Victorian corset so we can saturate the knowledge and improve our skills. We'll explore the various parts of corset construction including fabric selections, setting in a busk, where & how to put in boning, binding and setting in grommets.
FYI: Reenactors, museum docents, and serious historical costumers will benefit most from this home workshop class. It is designed for those wanting to create a proper Victorian silhouette for under historically styled clothing and costumes. Please note that this workshop class will NOT cover topics on extreme corset wearing or waist training.
Becca Hill – "The Victorian corset class I took from [Historical Sewing] was AWESOME! …The class is amazing!"
Take a Look at the Exciting Lesson Plans:
DISC 1 –
Welcome
Lesson 1: Discussing fabrics & special tools, taking measurements, and sewing the mockup
Lesson 2: Fitting the mockup and pattern alterations
DISC 2 – 
Lesson 3: Main corset construction including busk and boning channels
Lesson 4: Finishing with binding, setting in grommets and lacing the corset
Nowadays you'll find a variety of corset patterns on the market. Some are better than others and all have their flaws. However, the corset seen in the videos and discussed in the workbook, is the popular Truly Victorian 1880s corset pattern.
Don't be turned off by the "1880s" label though. It is a basic shape that will support most of your Victorian dresses from the 1850s through to 1900 (and even outside of these years).
You also get the option of making a corset from plain coutil or covering with a fancy fashion fabric. Fabric selections good for corset making will be covered.
Valuable Skills & Techniques You'll Learn:
Most reliable foundation and fashion fabrics for corsets

Fitting tips for molding the corset to your curves

Flatlining your corset with a fashion fabric

Measuring for the busk and boning sizes that fit your specific size

Setting in a front opening metal busk

Best method for applying secure grommets

Binding sewing tips
Elizabeth Escogne – "My best friend got me your corset video/workbook tutorial for Christmas. Even with years of costuming, corsets have always been scary for me because of the fittings and all the layers. It has been so helpful for when I have those " now what the bleep do I do?" moments. It's awesome to just look in the book or video and find an easy to understand answer. So THANK YOU!"
Can't wait to get started? Order your workshop class today!
If you have sewing experience but are new to corset making, you will feel comfortable here. We'll be following the pattern closely so you should be able to work through the project just fine.
If you are new to sewing in general, this may not be the best class for you at this time as the lessons assume you know how to operate your machine and have basic hand sewing skills. We wouldn't want you to become frustrated with techniques that are beyond your current skills. But you can be the judge more than us if you're ready to take the leap!
If you are advanced in your sewing skills or have made corsets before, you are welcome! Perhaps you feel you're missing a thing or two when making corsets. Or maybe you want to host a Corset Making Sew-Along and guide others through the process!
"Thank you so much Jennifer for all the time and effort you put into the presentation of your lessons." ~Karen Helle

Approximate Costs for Corset Supplies (not inclusive list)
Pattern – $13-18
Mockup Fabric, denim recommended, ¾ yard, up to $10 if you have to purchase
Coutil (60″), 1 yard to 1 ½ yards – $20 to $35/yard
Fashion fabric (optional), 1 yard – Price varies according to what you want to cover your corset with
Busk – $10 to $26 depending on length you need
Boning – sizes and quantities vary, need at least 12, price runs $.50 to $.95 per piece
Grommets, 2 to 3 dozen – $1 to $3/dozen, can buy in gross
Grommet Setting Kit, size 00 – $22 to $30 for basic recommended kit
Lacing, cotton woven, 8 yard with finished tips, 6 yard length if smaller size – Pre-cut can run $.50/yard up to $6/cut length
Extra wide double fold bias tape for binding, if not making your own – $2-5 package
Remember to allow for tax and shipping in your project budget.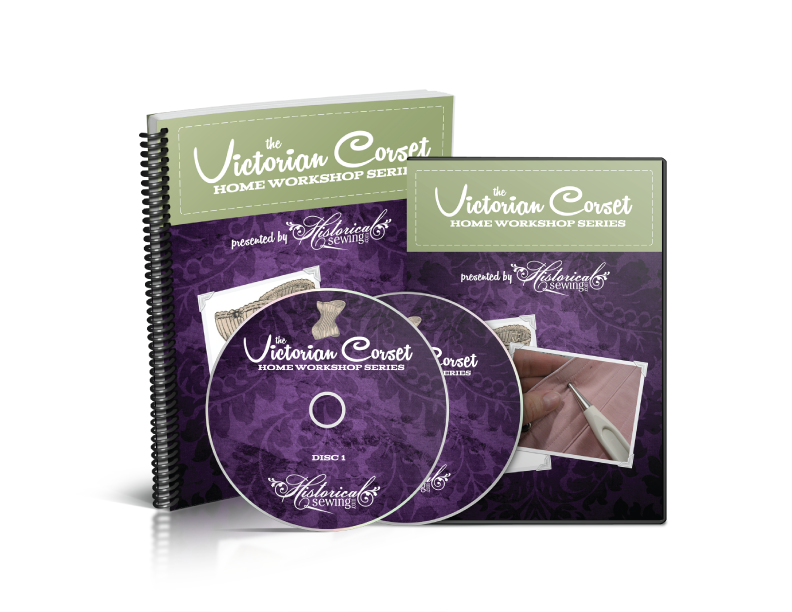 Includes full-size album with two (2) region-free DVDs (3.5 hours combined length) and a packed, 60-page workbook complete with color photos and homework assignments.
Order your set today and get your Victorian silhouette off on the right foot.
I'll see you soon! 
P.S. The Victorian Corset Online Class isn't going away! We're simply adding this DVD set option for those whose schedules prevent them from joining us in the "live" class.
P.P.S. All Historical Sewing tangible products are covered with a 30-Day, 100% Satisfaction Guarantee. If you are not completely satisfied and find no use for the product, please follow the return instructions on the packing list. Also send us an email regarding returning your items for a refund. Once your return is received a refund will be issued within 7 days. You may read our full Terms here.
Jennifer Rosbrugh, DBA HistoricalSewing.com, is an affiliate of Amazon.com and Truly Victorian.