Tips & Tricks to Help You Look Like You Stepped Out Of The 1860s!
Increase your sewing skills and make your costumes look like the clothing our ancestors wore!
The challenge when making fashions from another time is learning how to fit the fabrics to the body. Just because you have the pattern cut to your size doesn't mean it'll fit. And very rarely does it.
You have to fine tune it, fiddle with the seams so it lays correctly on your individual figure.
American Civil War reenacting has become quite popular across not only the U.S. but the world. (I hear of devotees in the UK and across Europe.)
Maybe you're new to the reenacting community. Perhaps you've been at it for a while. Or maybe you simply want to attend a Blue & Gray Cotillion. What drives you nuts is how you can get your gown to fit you beautifully so it looks like clothing and not a costume.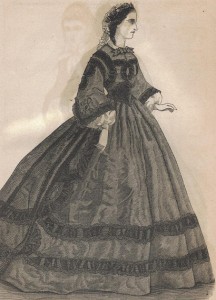 No matter where you are in your sewing experience you want to look good in your dress. You dread someone approaching you with a disdainful look, pointing out something "wrong" with your clothes. (Those people are simply to be ignored.)
Well, no matter your talent with the needle or even your fabric choice, if the dress is accurately fitted to YOUR body, it'll draw compliments. And we all want to be admired for our hard work.
But sometimes we can feel lost in how to get those seams to lie nicely over the shoulders; the center front to close without showing stress. You know it's just a matter of making a seam bigger or smaller, but where exactly do you do that?
And what about sleeves? You might have large upper arms like I do, and getting fabric to not pull over the upper arm so you can move is a problem. But there are a few tricks to get you moving again (so to speak).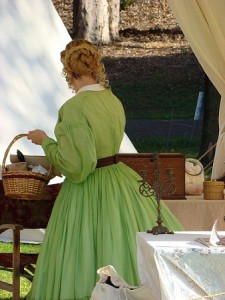 Do you suffer from "gaposis"? Most everyone I know in the costuming community suffers from this fate, sometimes constantly. And that's something that can destroy your desire to push onward with your 1860s wardrobe. Gaposis is a motivation and momentum killer.
Learn how to solve this dreaded issue with 2 ways to defeat this common problem. I use these methods in all my costuming and you can too.
In this valuable handbook you can apply the techniques fast to be on your way to looking like you stepped out of the past.
Handbook covers:
Tips to enhance your sewing skills
Day and evening bodices fitting techniques (pg. 5)
Gaping necklines in ball gown bodices (pg. 7)
How far up a side seam should go under the arm
Where to end bust dart points (pg. 9)
How to create a narrow back & waist appearance 
Working with sleeves for both day and evening bodices
Fitting tips for the unusual dropped armhole seam (pg. 10)
Dealing with extra fabric around the shoulder area (pg. 11)
Skirts of the period – how to measure and cut for your height & hoopskirt size  (pg. 12)
Other general era-specific sewing information
and much more!
There's no reason you can't fine tune your costumes to look your best.  And when you love your clothes, your historical personality is brightened by it. Strive to present a proper historical silhouette and feel great in your costume!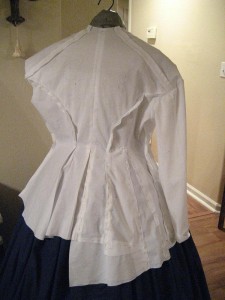 You want your historical garments look like clothing. The secret is in the fit of the fabric to the body! I'm excited to share with you the techniques I use in my own costuming.
Let's work together so that not only does the costume look good, we FEEL confident while wearing it. And playing dress up is the best when we enjoy doing it.
Get started now on the journey to better looking Civil War women's garments!
Details: Purchase of digital PDF eBook is through our online store: Old Petticoat Shop. 
All Historical Sewing products are covered with a 30-Day 100% Satisfaction Guarantee. If you are not completely satisfied and find no use for the product send us a quick email. For book returns, please follow the instructions on your packing list. For digital items we will refund your purchase price, no questions asked, within 48 hours. You can read our full terms here.