Here is a 19th C. sewing challenge dealing with the bodice of the gorgeous 1873 purple silk bustle dress in the Victoria & Albert Museum. How would you do it?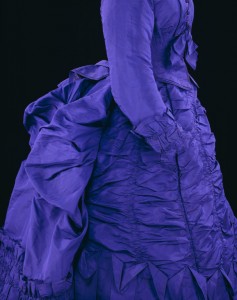 First let's cover what we're seeing….
I took a photo of the dress as seen in the book Nineteenth Century Fashion in Detail and enlarged it as much as possible but retained clarity. This shows the point at the center front hem edge of the front closing bodice. The arrow is pointing to to the point on the bodice body.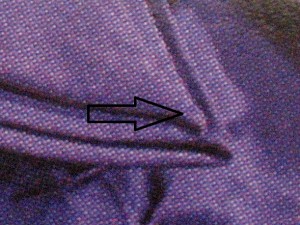 To the right of the point is ONE row of flat piping that goes up the split center front opening and stops at the buttons. The light colored area under the arrow is actually light reflecting off the skirt.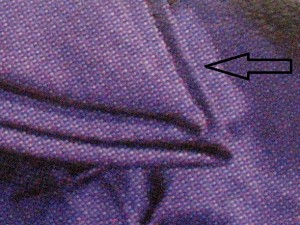 On the other side of the point are two rows of flat piping (see below).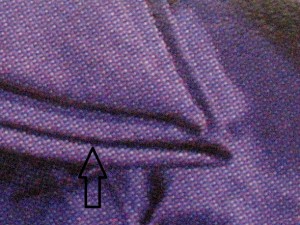 So how do you make this??
The challenge is that it looks like all the flat piping is done with ONE piece of bias silk and creatively folded at the point. But it also looks like the piping is made from an extension of the bodice as the bodice point looks like it's in the creative folds too.
I'm thinking the seam allowance of the bodice was folded inside. Then a wide strip of bias was hand tacked to the bodice allowances and the piping rolled outside and the folds put in before stitching the remaining bias strip to the inside covering the seam allowances.
The double piping also has that loop at the very point looking like on strip was sewn on then folded back, tapered up and the 2nd/outer row created.
It's a bit puzzling and very fine dressmaking to boot.