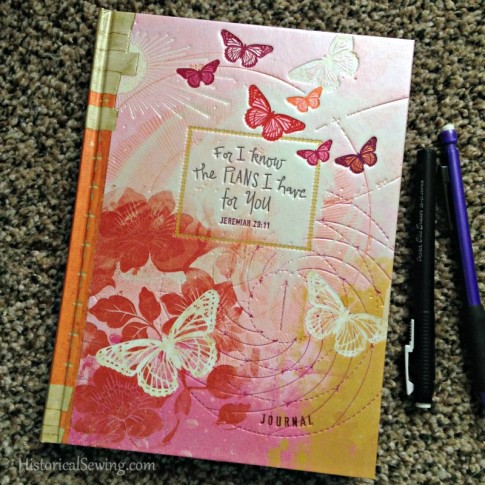 Aside from being a seamstress… a dressmaker, I'm a writer. I wasn't sure of that title until many years ago my friend mentioned all the writing I do in blog posts and ebooks and sewing instructions. Yeah, ok. I loved writing short stories in junior high and high school English classes too. I'm a writer.
I've journaled here and there since a very young age – 8, perhaps. But lately I've been writing Morning Pages – for a solid month now. When I mentioned this on my personal Facebook page I had all kinds of questions.
So what exactly are Morning Pages? What do you do with them? How do they help?
Not just for sewing but for life in general, I have found writing/journaling a good tool to dream and set your goals in motion. To make plans and do brain dumps. To clear out that mental RAM for other activities in life.
I've been writing four lines every night before bed since 1/1/1999 – yes! I have every day of my life recorded for nearly 17 years. Pick a day and I'll tell you what I was doing. Whoa!
Being in love with Victorian fashion I love the history part of my life being recorded. It's weird and intriguing at the same time. Since my husband and I have not been blessed with children I'm not sure where my journals will end up. It's fun to imagine them being found decades in the future as "daily life" in the late 1900s and 2000s. The diaries of girls and women in the 1800s are so full of details that we costumers and historians pour over them with verve. 
So back to these Morning Pages.
I was intrigued of this "morning pages" idea for journaling when my friend, Cathy, mentioned it. The link presented about the definition of Morning Pages was brief and I took the challenge. 
It's essentially free writing. Three pages written – by hand – first thing in the morning. Words of anything and everything that go through the mind. Although, I don't closely follow the author's video instructions as seen on her page. She seems too much about getting the negative out.
Nothing wrong with that.
I like to keep my pages positive. To each their own. I almost always start with lyrics of praise songs. Even if I do need a "brain dump" and my head is swimming of things to write. I have ranted though. Ha! A few days I've written as if it was a long prayer to God. (I've felt like Aibileen from The Help!)
Many days I struggle to complete three pages. Why three?? Why not just one?? 
Because three gets you past the blubbering, the wandering, and gives you enough to get into some meaty thoughts without spending hours doing it.
Nearly every day has my to-do list of items. Yes, my checklist including washing dishes, doing laundry, cutting out a bodice and feeding the cats. Mundane and the vital.
And I'm constantly going over dreams and plans for my Shop business and my blog. This part has been the most beneficial to me. What do I want to accomplish? How do I want to live my life and inspire others?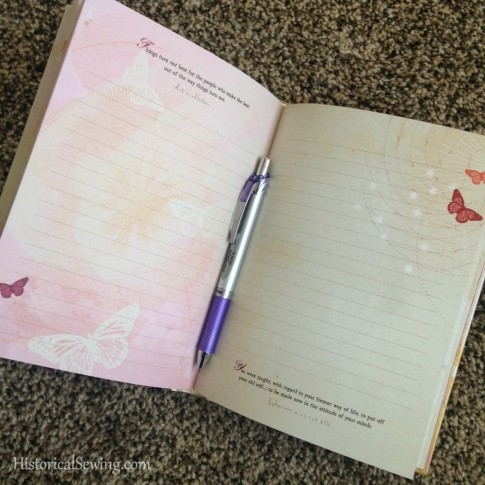 I write about the weather, the room decor, the kitties' mood that morning, the sewing projects to be finished… or started. Words to encourage and to plan. Simple phrases. And questions that may or may not be answered. Dreams and hopes and wishes and struggles. The many struggles. Yes, the negative thoughts do come out too.
I've found it quite helpful, though, in approaching my days. It can take me near an hour or be quick as 30 minutes to get three pages filled in. (I'm sure the number of lines on the page play into this as well as how tired I am that morning.) But I carry on. My friend says doing Night Pages can be just as beneficial if one doesn't have time in the morning. That I really would call a "brain dump!" Quiet the mind before sleep.
If you're curious about this writing task I'd encourage you to try it out.
Perhaps you'll want to morph your Pages into simply a sewing journal – one where you write about the projects to do, the ones you dream about, the UFOs to finish. Maybe they'll turn into a life journal. Where your words speak life and hope and you begin to dream again. To change your path.
With mere writing – anything – any words that come to mind, you set yourself free. It allows you to see the big picture but also focus on what's important in your life.
If you are already writing Morning Pages I'd love to hear your story! How it's improved or focused your life. If you are intrigued to start these pages – either in the morning or at night – I'm curious to know your journey to them. 🙂