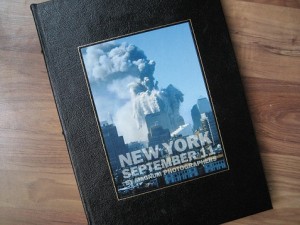 Everyone knows what they were doing when they found out about the attack on the World Trade Center. But for me it started with the plane hitting the Pentagon.
It was a usual Tuesday morning in LA. I had gotten out of bed about 6:30am preparing to go to my fashion classes that day at FIDM. In downtown Los Angeles.
I turned on the TV as I usually do to check weather and get some news stories. It was a very somber mood, I noticed, and then they started to report and show pictures of the Pentagon that was on fire and releasing a ton of smoke.
I watched for a few minutes curious as to what was happening. The memory is a little fuzzy here – I don't know if they showed a quick check on the two burning towers or not. All I knew was that a plane purposely landed in the Pentagon and I needed to wake up my husband.
I told him the Pentagon was on fire. He was straight out of bed. We watched for a bit and discovered the World Trade Center was burning. When the first tower came crashing down I, one, didn't really know what was happening for a couple seconds, and two, began to say the word "amazing."
That was the word I could not stop myself from saying. Over and over and over: Amazing. Utterly amazing. I think there was an "incredible" in there but amazing was definitely it. In fact, as my husband and I have discussed this recently (a little more in depth with the details of that day), that word amazing has come up again.
The event was amazing on so many levels.
Amazing that someone would have the guts to even hijack a large plane. (That's what evil does.)
Amazing that someone would have the nerve to drive that plane into a building.
Amazing how people who are being attacked from something so sinister and unknown that they freeze in awe.
Amazing that 41 people who heard of great terror and were experiencing it themselves could have the courage to face down evil for the good of many.
Amazing that so many would run into a 110 story building that was burning 80 stories up.
Amazing to see so many start to help each other. Surrounded by horror, human goodness took a stand and survival mode for not just themselves but for those around them.
It's the amazing part of the LIGHT that day defeating the darkness after the eerie hours have past. The light that comes from within each human – it's there in all of us, including those who attacked America. They simply chose to squash its brightness and follow evil – which is also in every one of us. You cannot have light without shadows.
It's amazing how the people of my country, the United States, came together in support and worked as one. I think it showed the strength of the people and that we can work together despite our differences.
I think it's amazing how other countries have held their own memorials to remember that day. ALL people are connected. We all have the same Creator (whether some choose to believe that or not).
My mom gave me a commemorative book about New York on September 11. I keep it when I want to remember the evil part of that incredible day. Its pictures still stir up deep emotions.
My husband's aunt and uncle were in the WTC tower restaurant on September 10th before coming home to California later that day. My cousin was on the street outside the Pentagon on the 11th and it took her seven hours to get home (a normal 30 minute drive).
Throughout 2001 I drove past the world trade center in downtown LA twice a week for school. After that day I would always keep an eye to the sky when driving past it and wonder how someone would not only want to but have the desire to fly a plane into a high-rise.
But what I really want to remember is the amazing goodness of the day.
That people are really good at heart.
That when something bad happens we cling to each other.
That people do pray for forgiveness.
That we seek out lost friends and family to re-connect because the human essence of our lives is fleeting.
That we are all trying to find a way to live at peace. We all want it. But we'll have to defeat the darkness within us to do so.
So remember to shine your own light brightly so you can help others. There may not be a burning skyscraper nearby. It might be an F5 tornado ripping through town, or an earthquake, or flood. Or simply that a friend needs someone to listen.
That is the amazing part of living.
To help each other through the bad times AND the good. To celebrate life and what we've been given. I want to remember it's not about me but those I come in contact with. That together we can press on toward good things in life. Because if we each shine our own light, the world would be a happier place, ready to take on the darkness that comes. Shine your light today!