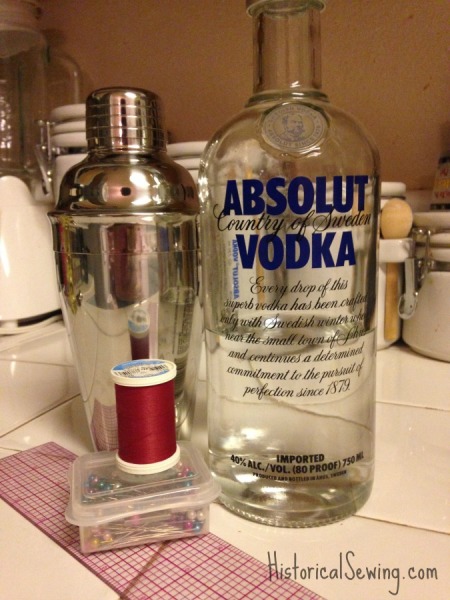 Did someone say vodka??
I will let you in on a little secret. But it isn't what you think. I'm not here to tell you how to mix the perfect cocktail when your latest project goes awry. I won't recommend drowning your sorrows at any time, unless perhaps it's with chocolate, wine or tea rather than spirits. 🙂
This secret involves a little vodka…
And a few smelly garments after a long event day…
Why Vodka?
Whenever I mention using vodka as a fabric deodorizer I get the question: "wouldn't rubbing alcohol do the same thing for a lot cheaper?"
Well, yes perhaps. Rubbing alcohol is significantly less expensive for one. Also, some people may have personal reasons for not purchasing liquor (like my mother-in-law).
However, rubbing alcohol (isopropyl) is a synthetic alcohol (originally derived from petroleum) whereas the alcohol in liquor (ethanol) occurs naturally. Isopropyl is also more toxic and stronger smelling than ethanol (euwwww…).
I use vodka because it has the least amount of color and aroma of any standard liquor. (Yeah… because I'm just not going to douse my labor-intensive period garments with just anything, right?)
Those very qualities are what make vodka such a great mixer: you hardly notice it in a cocktail unless there's too much of it (like Cosmos). For obvious reasons, you need the liquid to be clear. But tequila, gin, and white rum carry too much scent, and since you don't rinse out the spray, you probably don't want your clothing to smell like you've been hitting the bar a little too hard.
I suppose if you were portraying a pirate wench, the smell of rum might be a welcome addition, but in all other cases you only need for the alcohol to do its work killing the odor-causing bacteria. (It actually eats the bacteria that cause bad smelling costumes. Now, I wouldn't want that for lunch, but the vodka really likes it!)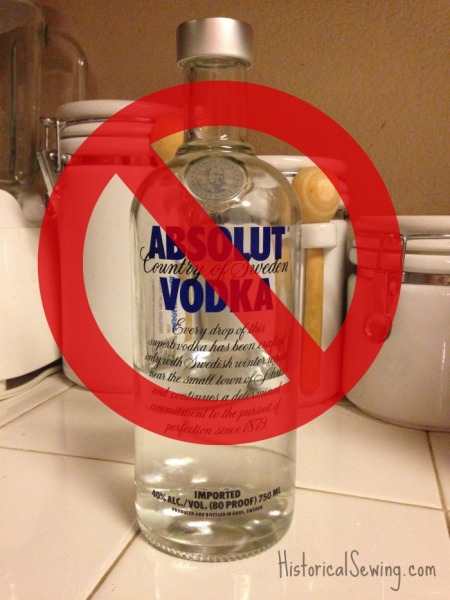 What Kind of Vodka?
I would usually answer this question with a premium label brand – but this is one exception.
Save your Stoli, Grey Goose, and Absolut for your liquor cabinet. Go to your local supermarket, find the liquor aisle, and look at the bottom shelf. That's right. Down, down, down …. to the bottom.
If you're familiar with the phrase "top shelf" you will know why it still applies to liquor: that's where the best merchandise is sold. But you are looking for the cheapest, lowest-quality store brand. I'm talking GENERIC, $10 or less stuff. I'd hesitate to even call it "vodka" any more than you'd call the other bottom shelf liquors whiskey or brandy or rum.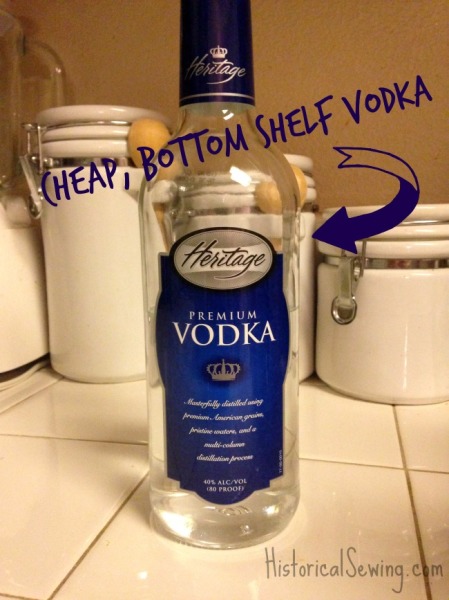 Oh, and don't even think about drinking it. You'll be very sorry.
My husband made that mistake once. I had just bought a new bottle of the cheap stuff. He thought maybe if he tried a little in a glass of orange juice he could make a passable screwdriver (you know, rough day and all…)
Uh-uh. Not even close. The whole thing went down the drain.
A note of caution: our local market carries lemon and berry-infused vodka on the bottom shelf. Ignore those. Just go for the plain, unflavored vodka. You're using it as a chemical, so keep it simple. You might even want to take it home in a brown paper bag if you're feeling that self-conscious. 😉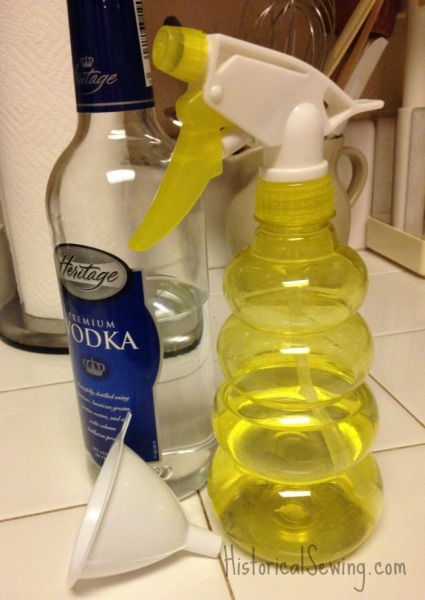 Preparing to Use Your Bottle of Cheap Vodka
Okay, now that you have your bottle of booze, what do you do with it? Find an empty but clean spray bottle and fill with the vodka. I've had many costumers tell me they dilute the vodka at this point, but I usually use it full strength and have never had a problem. From silk taffeta to plain ol' cotton – the full strength has been fine.
To make sure the vodka won't affect the fabric, you can test a small area of it first. (If you are using rubbing alcohol, I definitely recommend diluting it!) Finally, if you plan to use your bottle for several projects, be sure to mark it somehow to distinguish it from your regular water spray bottle. (very smart idea!)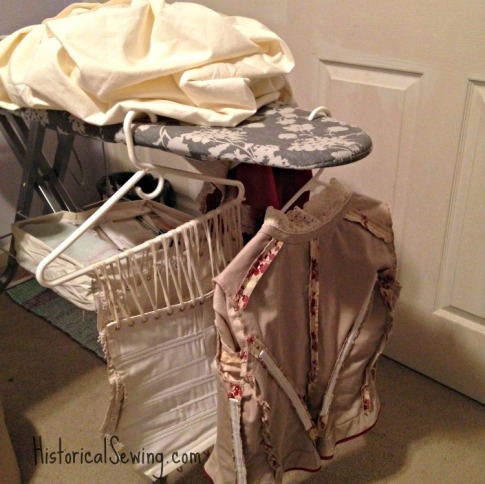 How to Use Cheap Vodka on Historical Costumes
Your period undergarments should be machine washable, so there's no need for a vodka bath on them. This method is for your expensive bodices, corsets, and other clothing pieces that are too delicate for hand washing and only require spot cleaning.
Spray the underarm areas, collars, waistbands, and anywhere else that got sweaty while wearing. Note that you aren't going to remove sweat stains this way; the alcohol is killing (i.e. eating) the bacteria that cause odor, so this is more a freshening than an actual cleaning. One more reason to use dress shields.
Let the garment air dry. I like to lay bodices out flat or turned inside out and placed on a hanger. I hang corsets over hangers or chairs by the laces. The alcohol evaporates in a few minutes depending on how much you've dampened it. Re-apply if necessary.
Side note: I personally have not used vodka on original or antique garments (for obvious reasons). I'd recommend other cleaning & restoration methods for such delicate pieces.
Have you used vodka to freshen garments? Share your stories below.
Additional story: a couple years ago my cat got really nervous on the way to the vet and he emptied his bladder on my car's back seat (of course, not on the towel we had for him back there). I sprayed full-strength cheap vodka all over the seat for several days in multiple dampening applications. I went through the WHOLE bottle of vodka. It worked! It didn't entirely remove the odor, and on hot days afterwards (which for California is all of them) I could smell it in the afternoons. But with time it has faded nearly completely! I can't imagine if I hadn't used vodka on the seat right away.