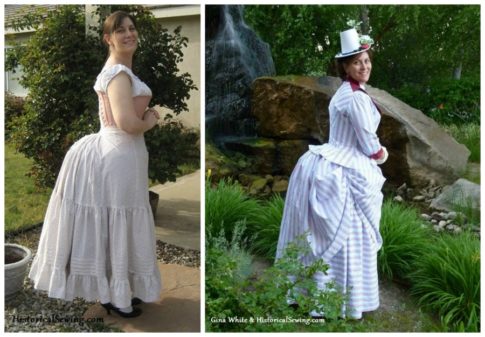 It's summertime for most of us – time to debunk the myth that layers of Victorian costumes are so much hotter than today's clothing.
Gah! It makes me want to scream when I see people talking about how women were "slaves to fashion" by wearing all those layers.
Well… they didn't know otherwise!
Our ancestors didn't know about air conditioning, and wearing only a camisole (aka t-shirt) and men's trousers (aka pants or shorts) would have been beyond scandalous. They couldn't even imagine NOT being dressed in a proper chemise, drawers and petticoats then the dress (usually skirt and bodice) on top.
That's simply how clothing was worn in the 19th century.
PLUS…. and people forget this…. the fabric used was natural – cotton and linen. Thin fabrics that breathe and keep you cool in the heat.
Not the polyester/nylon/spandex crap we have our modern clothes made from. They don't breathe! Ugh.
Yes, if you take modern, warmth-producing, un-breathe-able fabrics and make a full-on Victorian ensemble – YES, you will be hot and miserable! Just as we adjust our own modern wardrobes for summer wear, they did it too with fabrics and other design styles for the clothes they wore.
We don't wear our long underwear, made for under winter clothes for added warmth, under our summer tops and skirts. We put away the down coat and pull out the light windbreaker jacket (if needed at all) during the hot weather months.
The Victorians, too, wore *more* layers of clothing in the cooler, winter months for protection and warmth. They shed most of those layers when hot weather came.
But know for sure, a chemise, drawers, corset, and *at least* one but maybe more petticoats were worn under even light summer ensembles. People dress to reflect their personality and society mores. This translates to common undergarments and other layers during the Victorian Era.
Be careful in pulling in a 21st century mindset when viewing clothes of the past and how we think they suffered so much. They didn't.