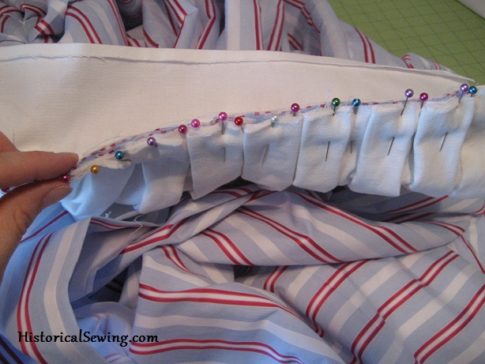 The question came up on my Facebook page: do I use all historical techniques in my period costuming like hand sewing, or do I use modern methods like synthetic thread and sewing machine?
Some of you already know how I cheat with modern methods. But I'll go a bit further and list out the techniques I use when sewing and whether they are found in period clothing or not.
Historical Sewing Techniques
These are found in originals and that I use in my historical costuming. I'm generally speaking of Victorian garments in these lists. Although, I do sew from late 18th century through 1920s.
Machine stitching of major seams in all garments forward from the late 1850s
Flatlining both bodices and skirts, although not all skirts need an underlining
Applying bones to seams by machine sewing the casing to the seam allowance

Finishing bodice hems, sleeve hems and necklines with bias strip facings and hand tacking them in place
Hand sewing skirt hems
Hand finishing waistbands
Using hem facings and hand tacking to finish
Adding skirt plackets at openings
Creating bodice closures of hook & eye sets or buttons and buttonholes
Clipping seams before pressing open
Sewing French seams but only on sheer garment seams that will not be supported by an underlining fabric – for example, an unlined sheer summer skirt
Using sew-in underlinings and interfacings to support items like collars and cuffs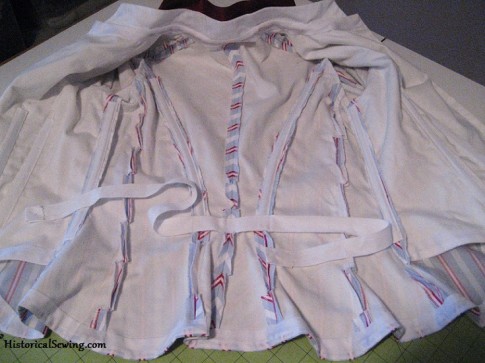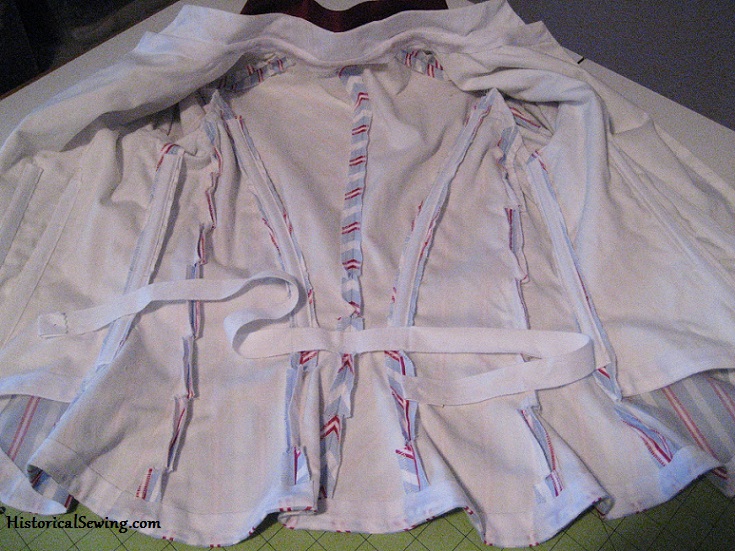 Modern Sewing Techniques
The methods listed here I use in my historical costuming but were either learned in childhood from sewing modern clothes or shortcuts I've picked up over the years to speed up my sewing. They could also be from materials the Victorians used but not available to us in the 21st century.
Machine stitching of major seams in all garments prior to the late 1850s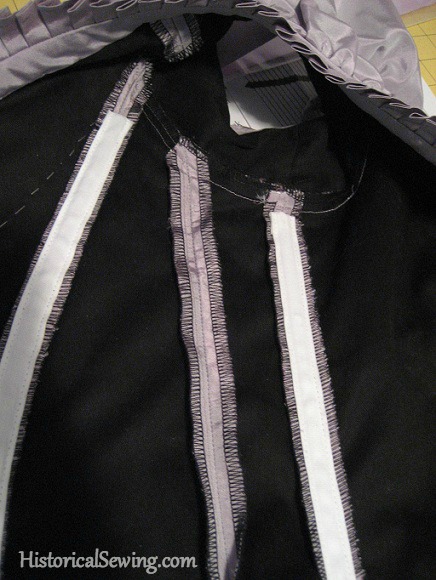 Use a serger to overlock raw edges – I mainly do this when in the flatlining stage
Understitch a neckline and other separate facings when used to finish raw edges
Use metal bones in bodices and corsets (as opposed to whalebone which is now illegal)
Grade seams – although, grading can be seen on some antique, late Victorian garments the general use was to merely clip and shape the seam allowances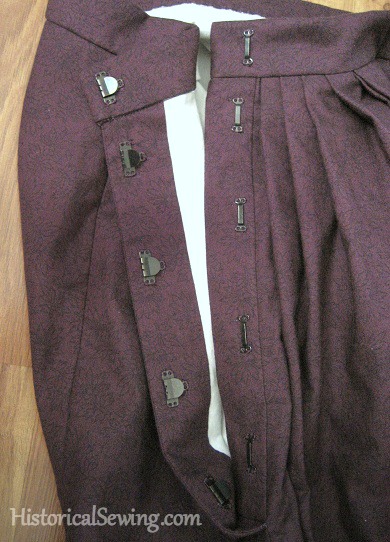 Use modern skirt hook & bar sets to close skirt plackets and waistbands
Use cotton-wrapped-polyester or 100% polyester thread on most everything
Defer to the occasional polyester or rayon/poly blend fabrics if the color or print is the best match for my project. Although, it is rarely the primary fabric in the entire outfit.
Use fabric glue when constructing hats and bonnets (and every once in a while to apply trim to headpieces)
Use poly or nylon "silk" fabric florals and greenery for trims
Use rayon or polyester trims
Use nylon netting for bustles and poly batting for bustle pads
Modern Sewing Techniques I Don't Use
Zippers of any kind and anywhere. Nope. I stick with buttons & buttonholes, eyelets and lacing, and hook & eye sets. No velcro either.
Shaped facings like you see on modern blouses to finish neckline and center front (or back) openings.
Machine sewn hems…. UNLESS it's a petticoat and some ruffle trims. Then it's both a modern and period correct method I use.
There are some costumers who are of the opinion that "if the Victorian woman had it she would have used it." As in the electric sewing machine (not treadle powered) or the electric steam iron.
And others who strive to only sew the way our ancestors did.
I'm not sure which way you create historical garments, but I am ok myself to use shortcuts and different materials or better techniques when possible.
Life is short and, for me, my sewing to-do list is HUGE. I want to make as many projects as I can and want to.
I want the pretty dress and the warm cloak but strive for the silhouette to be correct. I won't necessarily concern myself with historical accuracy within the entire project. I concentrate on getting "the look" right and also challenging myself to more difficult techniques to improve my skills.
In my classes I teach both historical methods and modern counterparts when they come up. My students and followers land on both ends of the sewing spectrum – historically accurate as possible down to *really modern* shortcuts – and everywhere in between.
As I study 19th century clothing I realize how un-complicated it is.
Peeling back the layers of fabric and trims the construction is really not difficult… Seams, darts, set-in sleeves, hems and facings, mainly four types of closures, and hand tacking anything that can't get into a machine.
So I use means that will produce a good-looking and well-made ensemble but take advantage of modern tools and materials all while saving myself time and thoroughly enjoying the process of it all.
What modern techniques to you use in your historical costuming? Any cheaters out there? What historical methods do you love using?