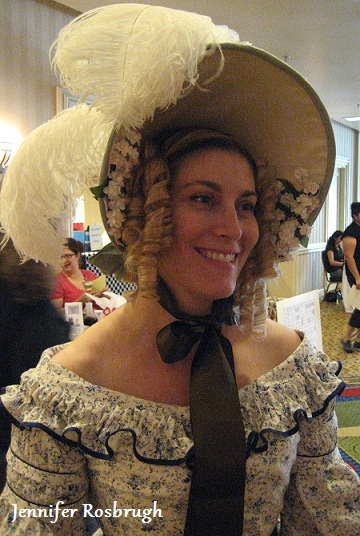 Flipping through the stack of (digital) fashion plates, I was enthralled by so many ideas for how to decorate an Early Victorian Bonnet. I was doing trim research last summer to complete my poke bonnet for Costume College and fell in love even more with this lesser-known era.
Taken from period publications, early photographs and surviving pieces, here are 25 ideas and tips on how to trim your bonnets from 1837 to 1855.

For your artificial trimmings such as flowers and leaves, you want to look for natural-looking materials. I mean, use common sense and avoid ornamentation that screams "I'm made of plastic." Anything too shiny is probably too modern for historical wear.
Same thing goes for your fabrics and laces – stay away from nylon and gleaming polyesters. Although, you can find some really great ribbons and other trims out there that are fabricated so well, the non-natural content is secondary to the period look you're going for. Unless you have a budget for silk and cotton netting, lace, ribbons and fabrics, keep an open mind for using synthetic trims – do your research, maintain your patience and be discerning.
1.  Drawn bonnets in all colors of silk need very little additional trim as the ruched fabric over the reeds creates a unique look on its own. Try two different materials, like silk and heavy lace, to interchange when making up a drawn bonnet.
2.  Grape bunches, berry clusters, vines and ferns – small bouquets tacked on the outside at ear level, or with the vines, trail them up and over the top of the crown
3.  Waterlilies, blades of grass and sprays of small flowers; small clusters of flowers and leaves
4.  Hummingbirds, butterflies or other small flying creatures (but stay away from the insects as they are mostly found in late Victorian trimming)
5.  Bonnet ribbons placed around the top of the crown and falling to the mid-back with tassels on the ends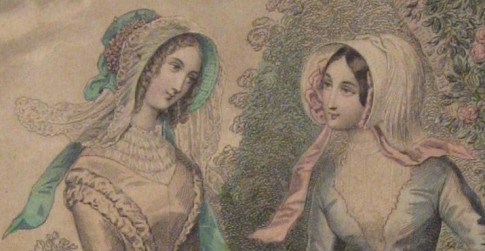 6.  Medium width to wide ribbons in satin, plain silks or corded (like grosgrain) with plaid, floral and stripe designs – ribbons criss-cross over the top part of the bonnet going from bottom of tip, diagonally over the top and down to the brim
7.  Bows of ribbon or fabric of all sizes – tack in a few places around the bonnet
8.  Blonde or black lace – tacked around the tip and laying across the crown, or tacked to the crown and laying over the brim
9.  Velvet or velveteen to match the dress – a period accessory choice good for winter
10.   A "Velvet and lace bonnet" – for example, blue velvet covering and black lace
11.  Light colored bonnets (white, pink or blue) with dark trims such as jet or black lace
12.  Two colored bonnet – for example, white plush brim with purple velvet crown
13.  Heavy ostrich or bird-of-paradise plumes – dripping down from one or both crown sides or turning away from the crown – Think 3-D and have the plume tips just brush the shoulders.
14.  Pleated or ruched fabric (cut on the bias) or wide strips of fabric draped over the crown/brim join
15.  Embroidered fabric or lace for brim coverings and the curtain/bavolet
16.  Small flowers and lace on inside of crown framing the face around the top, or at the ear and cheek level
17.  Tiny fringe, lace, pleated fabric or other trim along the outer edge of the brim
18.  Ribbon Treatments: pinked, scalloped, tiny rolled hem, or finished with narrow bias, cartridge, knife, or box pleats
19.  Bonnet tie ribbons that are narrow and short and tie directly under the chin falling to about bust level
20.  Pleated ribbon flowers or bows attached to the bonnet at the crown/tip area with the ribbon ends falling to the shoulders
21.  Lace lappets attached to the top of the crown and falling to the shoulders
22.  Silk chiffon veils in white, black or colors for riding
23.  Lace veils attached to the crown and falling forward over the edge of the brim (This is a period form of blocking the sun from the eyes.)
24.  Bonnet ties attached to the brim points or set further back on the inside of the brim where the crown and curtain/bavolet meet
25.  Bias strips, tiny braid, or small berries running around the entire outside brim
What have you used to trim your Early Victorian Bonnets?