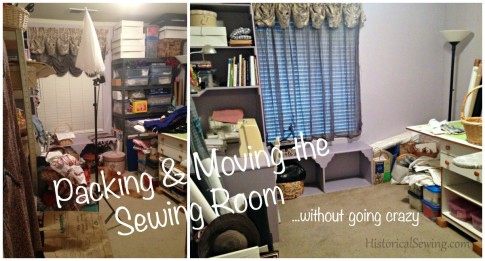 This year, after eight years in the same house (our first one), I find myself having to pack up and move a *stuffed* 8 x 10 ft room full of sewing "stuff" and miscellanea. When I started out, ok… when I started thinking about doing that I froze. I procrastinated. I sighed.
How in the world was I to do this??
I don't know if you've ever had to pack your sewing piles, much less move them several hundred miles away, but here's how I managed to clear that room and keep my sanity.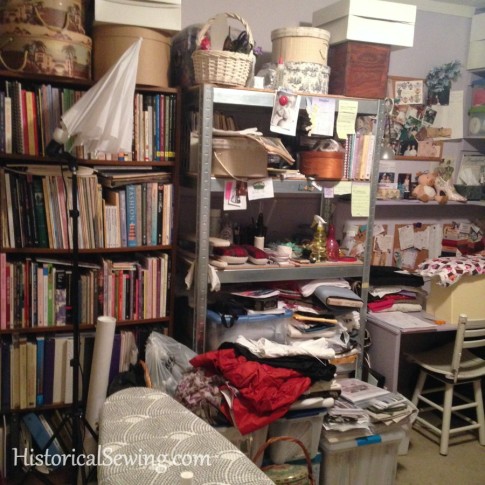 Disclaimer: I'm sure there's a variety of ways to pack up thread spools and fabric and packages of bias tape, but these tips here are merely what I've used on my recent journey to Empty Sewing Room Land. They may not be the best, most efficient, or most durable to survive an Act of God. But they worked for me.
Disclaimer Two: At the time of this post I've only packed the sewing stuff. I haven't actually moved it near 700 miles.
First, I have to admit a lot of my fabrics were already in plastic bins.
But, you know, when you move you kind of have this itch to purge things. To clear the air of old goods and notions you've been hauling through life. To just get rid of the crap so your creativity can soar!
So the goal was to go through each bin and pull fabric pieces that I knew I would never use or that the inspiration was long faded away. I also had huge stacks of fabrics NOT in bins but left loose on random shelves and the cutting table.
So Tip #1 – purge fabrics then fold gently into plastic storage bins. These bins not only work great for travelling but for storage too. My bins are clear so I can see the contents, but dark plastic will prevent light from penetrating inside and discoloring or breaking down the fabric fibers.
If fabrics are precious, or even antique, fold and pack in a cardboard box. Use acid free tissue paper to protect folds from creasing.
Tip #2 – use acid free boxes for moving & storing your antique garments and your own personally-made costumes if you want long-term preservation.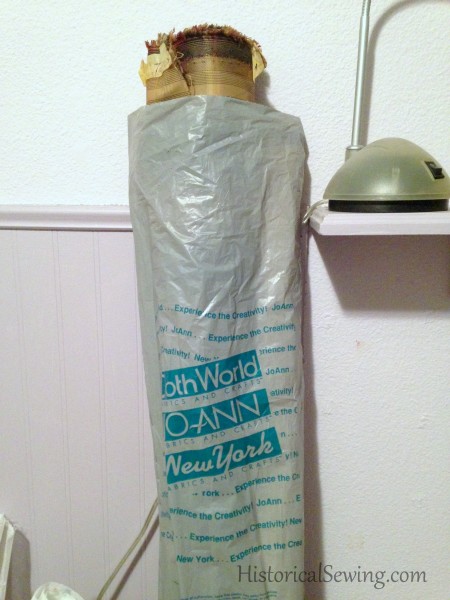 I had a lot of fabric on 60" cardboard tubes. You can find area rug bags to wrap them in if you want to leave on the rolls (Tip #3). For more compact moving, I decided to take the fabric off the rolls and fold into a box. The medium size box of about 24 x 24 x 24 inches worked well for this. I filled the top with scraps of muslin and old mockups that I didn't want to throw away yet.
Fabric is also nice as it can be used as filler in other boxes around hard-to-pack items such as pressing hams or your iron or costume accessories. Great for use to wrap precious heirloom items or delicate tools. So leave some of that generic, basic fabric to use as packing material later (Tip #4).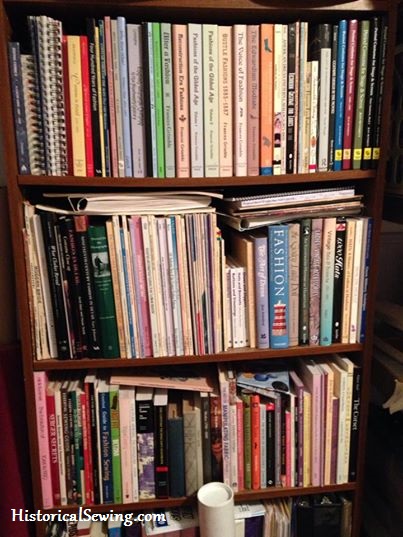 The bookcase was one of the first things I tackled. It's easy enough to pack books! But make sure to use smaller box sizes like 12 x 12 x 12" or 18". I found the small box size worked great for those long Janet Arnold books! (Tip #5)
The small notion items and papers & swatches on my two corkboards were placed in smaller shoebox size plastic bins. I did this with my entire thread rack and drawer too so my thread was all in one place (Tip #6).
My next step was sorting through all my hat boxes. Hat boxes come in both round and square sizes and all of uneven height, so trying to stack uniformly is a bit difficult. I even used them to hold odd notions & tools I would still need handy.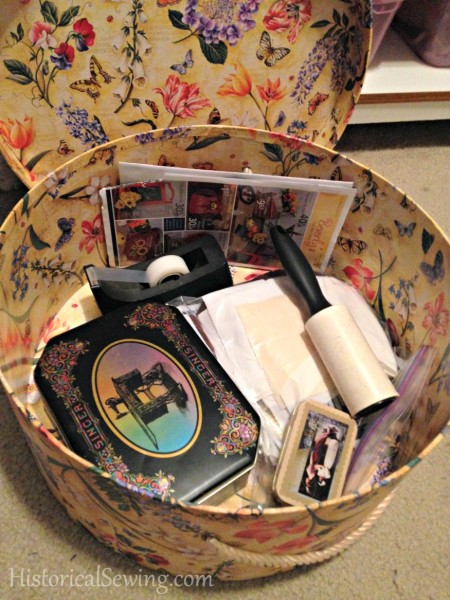 For Tip #7, I opened up all my boxes at once (a feat of engineering on my already-too-crowded floor) and started putting like-hats together. Narrow bonnets nestled inside each other and laid flat in smaller boxes. Large brim bonnets found their way into my largest round hat boxes. Other really large hats were placed into paper shopping bags with tissue all around.
Use tissue or packing paper inside puff hats and bonnets to help retain their shape. Fill in corners of square boxes with fabric or packing paper (or fabric!) to keep hats from shifting around and ruining delicate trims.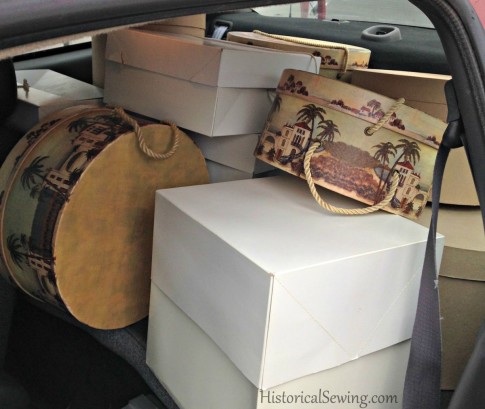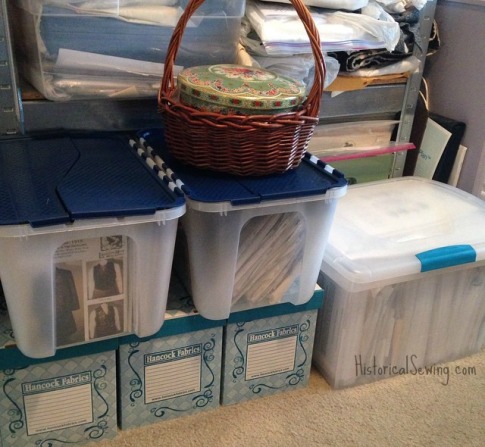 After all the hats were packed I moved on to patterns. 'sigh'…… My one true collection. I purchased more plastic bins for those patterns hanging out on my shelves but really needed a home. I found bin sizes that were well suited for the approximate 9" x 12" envelopes & bags of all the various independent pattern companies. My Big 4 patterns reside in the cardboard "pattern' boxes you can find in chain fabric stores near the pattern cabinets (Tips #8 & 9)
Tip #10 – Current projects with designated (or even already cut out) fabric and patterns were placed in plastic bags that then went into larger bins. (I'm keeping this bin near the front in case I find myself with time to work on a project before I actually leave town.)
Bits of ribbon or other trim were gathered up into large Ziploc baggies. I did this with all my floral stems and picks too. Those bags then get packed into larger boxes or plastic bins. (Tip #11)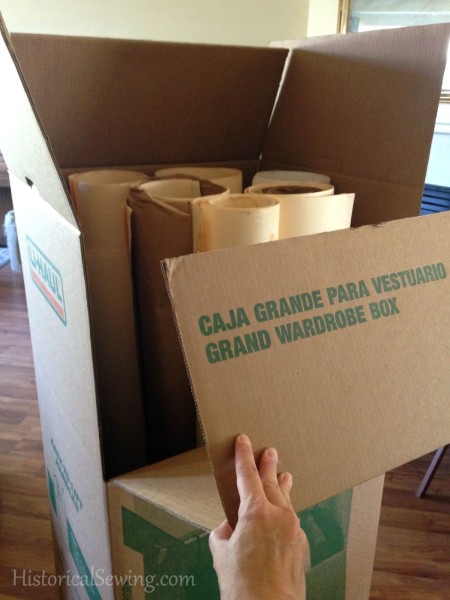 My biggest challenge was my 48" pattern paper – blue dot paper, brown craft paper, and manila rolls. I ended up with the U-Haul Grand Wardrobe Box as it stands exactly 48" tall with enough extra to not squish the top of all my paper rolls. My 45" ruler and yard sticks fit in the box too! (Tip #12) Parasols could be packed in with these paper rolls as well.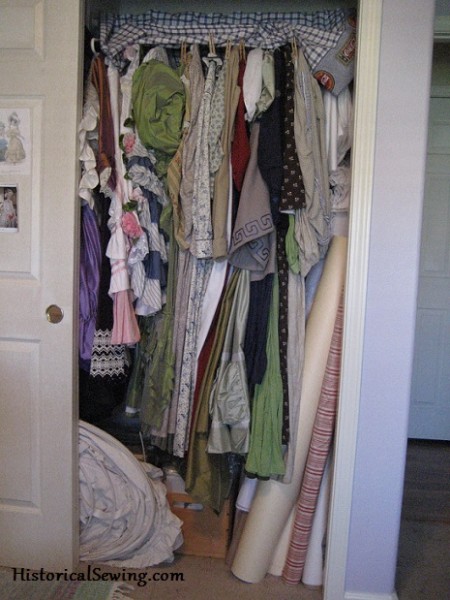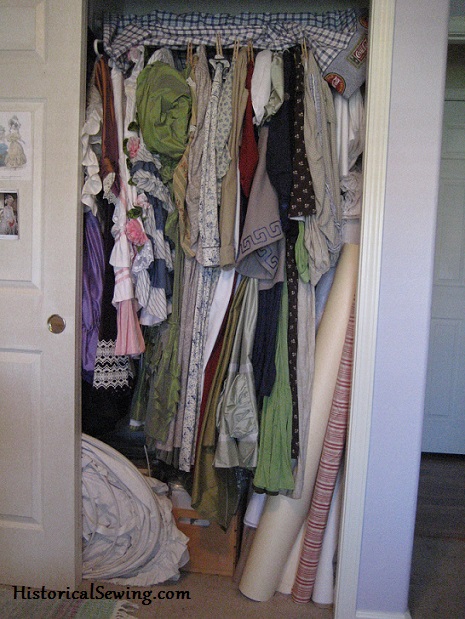 Finally, it was time to tackle the actual costumes. For Tip #13 I found the large, flat wardrobe boxes to be a huge boon! I filled FIVE of them – packed solid with my costumes laid out flat. I first put down layers of clean paper then took my hanging costumes from the closet bar and layered them in the box topping off with another layer of clean paper.
To fill the edges I added my parasols which will keep them from breaking. My wall thread rack also fit easily on top of the layered costumes. Whoot! (Tip #14)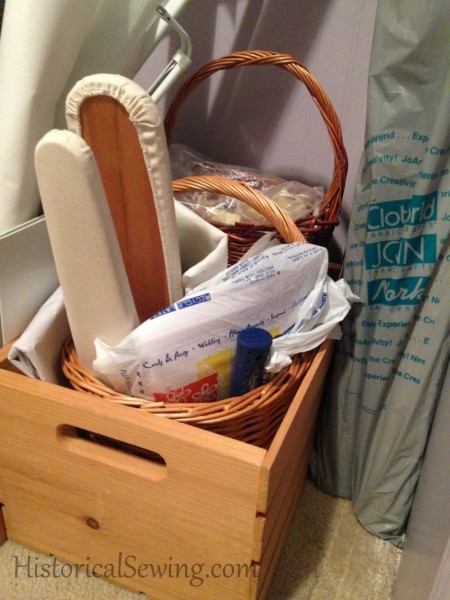 Now that the room was basically done I was left with the odd stuff – sleeve press, dressmaking rulers, baskets I carry my hand sewing in. These stacked nicely into those generic wood crates. (Tip #15) My only issue here is that they aren't in boxes (but could be) and that I'll have to move them myself (rather than the moving company). Oh well. They will keep my dressform company in the back seat of my car. Ha!  😉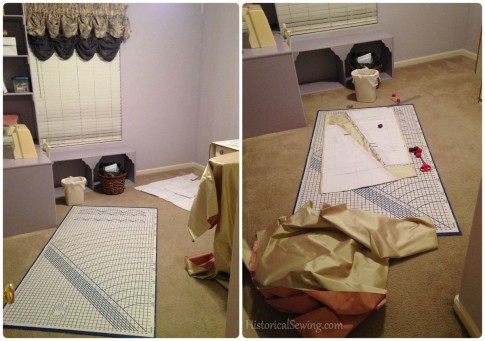 Now that I have a near empty sewing room (my house hasn't sold yet), I'm almost at a loss as to what to do with all the floor space – ack! Haha! (So I'll cut some silk on the floor…)
Have you moved a sewing space before? Any tips to add or packing methods that worked for you? Please share in the comments below!