I can just see Caroline Bingley in this lovely dress, floating around Netherfield at the ball while gazing down at the country bumpkins invited to the formal affair.
Click below to see what Lydia Bennet would like to have.
(And can I say that the sleeveless white dress the character wears in the 2006 Pride & Prejudice film is far from this gown with its long ruched sleeves.)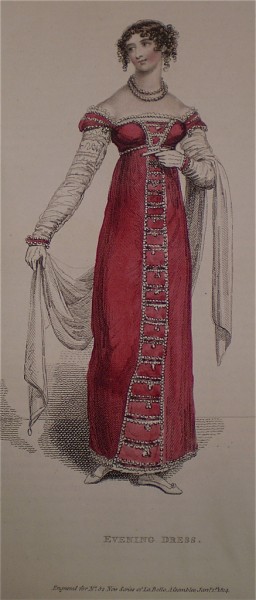 This plate is from ca. 1814. You can see the trend of vertical trim down the center front. This design idea will continue into the 1840s.
hmm… I'm imagining a cherry red silk organza over a cotton batiste lining. Shrewsberry Lasses is being called next. Shall we dance?
Plate provided by Julie Burnsides of Snapdragon Design.