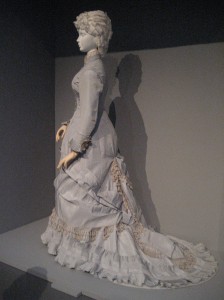 This beautiful silver blue silk taffeta gown was on display at the Fashioning Fashion exhibit at LACMA. It caught my eye, not just because it's the Victorian style that I love, but the details are fabulous!
First, this dress is in the current mode of "princess line" where the bodice and skirt are cut in one piece with long darts to fit the bust, waist and hips. (Check out the thick piping on the armhole that is only around the top of the sleeve head.)
According to the exhibit placket, the princess cut was a "milestone in tailoring," and "the term princess line outlasted this confining style and is still used today." You can see it in action today on many of the gowns recently seen at the Academy Awards and Golden Globes.
What's prominent about this reception gown is the long train and the concentration of trim on the skirt. This dress is from the Natural Form Era, smack between the two bustle eras, and is properly proportioned in design. The fitted bodice with little trim balances the skirt, which is the focus of the design.
The bodice is quite plain with a couple of brown ribbon rosettes mounted in between a couple buttons. A count of 13-14 funtional buttons open at center front which is closed right over left (the general female styling in late Victorian).
The skirt, though! Drool-worthy to be sure.
The complete skirt hem and train are self-trimmed (made from the main dress fabric). Two bias bands are embellished with a top ruffle of finely pleated fabric. (You can apply the same trim on your own bustle era costumes with the Perfect Pleater™.) The lower ruffle is unevenly pleated with a wide knife pleat every 5th one.
In person the pleats look to be about 1/4″ wide. The bias bands were over an inch, maybe about 1 1/4″ wide.
The draped apron/overskirt is edged in a wide double-row mini fringe. The asymmetrical style of the drape is very much a Natural Era element which continued into the 1880s after the bustle returned.
So beautiful!
Before I left the museum I took a second trip through these real, gorgeous clothes on display and stopped again at this 1880 dress. As I peered closer I noticed the unmistakable watch pocket opening. How cool! Can you see it? There on the first left dart seam?
Bump up your historical costume detail and challenge yourself to adding either the pleated trim and/or the watch pocket to your next Natural Form era project.