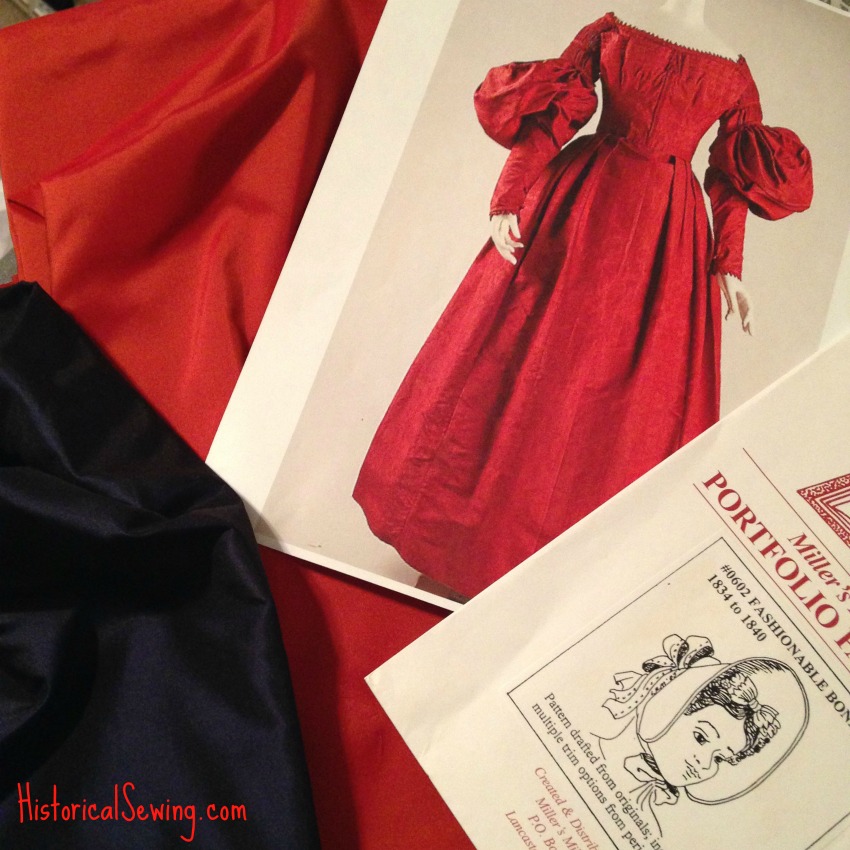 Ok, so orange was probably the last color I would have expected to sew with. Well… at least make an entire dress out of.
But then I came across THIS DRESS over at the Met Museum's website. O.M.G. I was (and still am) in love!!!
So of course I have to reproduce it….
Right off the bat I'll have to say the only part I'm not reproducing is the bodice front pleated part near the neckline, at the top of the bust. I think the front was cut on the bias then pleated at the top to simulate a mock bertha effect then mounted to the underlining.
I don't have time nor the patience for this. So here is what my bodice front looks like:
And on the inside I copied how most originals are made and did not put in any boning bar one single flat steel bone at the center front seam.
Now, because the original has these HUGE elbow puff sleeves – made of awesome actually – I only knew of one printed pattern that would be of any use… the Past Patterns Lowell Mill Girl's Dress. Of course, there's always Jean Hunnisett which I used for my 1839 dress sleeves but those are a little different.
I started this project by making a mockup of the Past Patterns bodice. The size fit quite well with my usual personal adjustments. But… look how short that bodice is!! And I'm short waisted!
This is definitely more for an Early Romantic Era/1820s look whereas my inspiration is just slightly above the natural waistline. (BTW, great pattern! And fun instructions too to hand sew the dress together. I will be making this later in a cotton all by hand.)
So I decided to try something else as I'm a bit short of time to get the dress done to wear to this year's Costume College. And I love to not reinvent the wheel.
So following my own advice (from the above Wheel article) I pulled out my 1830 Slytherin Dress and pattern. My figure is slightly bigger than when I first made this dress, but it was an excellent starting point.
Based on the notes I took while wearing the green dress, I traced my pattern then added a tiny bit of width to the side seams and center back and also increased the armhole circumference for more movement. Took only a couple hours for the whole "mockup fitting" and pattern drafting then I was on my way to cutting.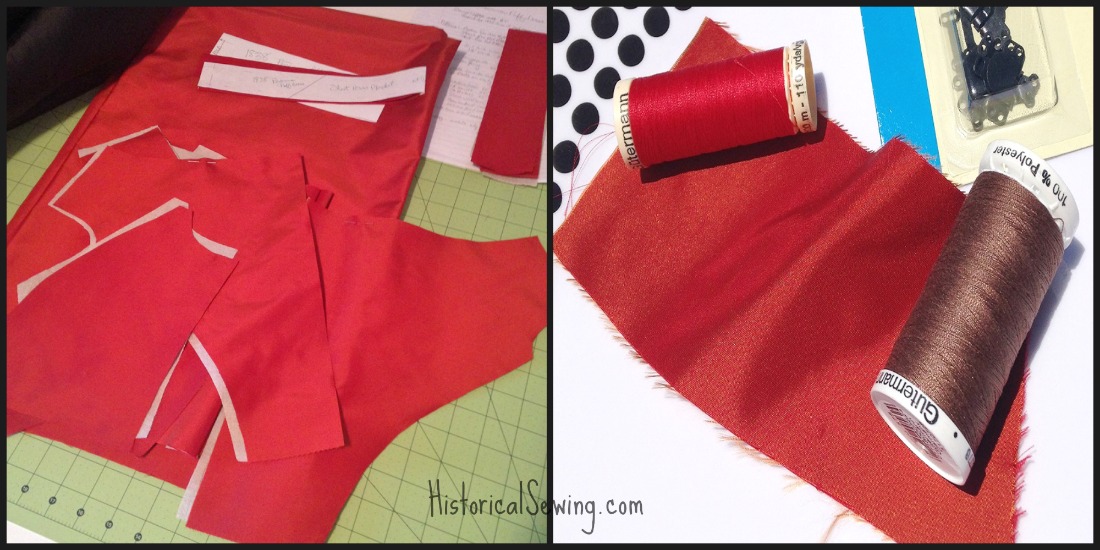 My fabric is a silk taffeta found in Downtown L.A. A really cool color of fire red and golden shot together. I squealed with delight when I found it as it was so close to the original – but in taffeta instead of moiré.
The taffeta is flatlined to an underlining of 100% cotton that is a perfect hand to support the taffeta while keeping it comfy. It looks like a rough weave in its oatmeal color but it's actually fairly smooth.
After using the uber-cool zoom feature at the Met's website I discovered only the armhole is piped. Like, none of the other seams are piped as was so common in the 1830s. It only *looks* like piping. Well, at least that is how I interpreted it.
So I made my own. Six point five yards – that's 6 & 1/2 if you're counting or 234 inches. It's a piped edge with about a 3/8″ lip that's visible.
After I started hand sewing it to the bodice I realized I should have used larger cord as you can really see the piped edge on the original when you zoom. My little 1/16″ cotton twine fades away a bit. Oh well. Here's the package of cording I use for the tiny piping in mid-19th century garments:
I've hand tacked both sides of the custom piping to the side back seams (placing the cord following the seam dent) and have so far got it on the center back opening (right side only) and on the center front seam. The rest of it will go around the neckline and over the sleeve pleats and at the wrists. Of course, the little diamond teeth still need to be cut and folded before it's all tacked to the bodice.
The traditional back closure on this 1830s gown is finished with a strip of the underlining fabric set on as a simple facing (cut separately). I'll be sewing on hook & eye sets to close.
At this point the last bit I have done is the skirt. It is all together and completely hemmed with a 8″ deep hem facing cut from plain ol' muslin. The skirt is unlined.
The skirt will be set onto the bodice waistband with deep knife pleats around to about the side seam, and the back half brought in with cartridge pleats, which you see are sewn in and ready to attach. But I want to get the sleeves completed and set in before attaching skirt to bodice – it'll just be easier to deal with only one humongous dress part (sleeves) rather than two at once (sleeves AND skirt).
Stay tuned for my post on the completed dress (which will probably be in August when I have photos of me wearing this new confection!
P.S. After scouring eBay, Etsy and the like, I found an antique spotted lace fichu to wear over the shoulders. I can't wait to show you the completed look! Hip, Hip Hooray for the 1830s!!!