Ah… life with a newborn. It'll make you re-think your life. Ha!
Well, yes and no. As a new, older mom (one they call "Advanced Maternal Age" or what I jokingly referred to as "geriatric mother" 😛 ) I have found that my sewing time has been reduced dramatically* and of course I want to sew All.The.Things now.
*Yes, sewing can be done in little bits of time yet I'm [still] struggling with the 10 minute session thinking.
Amidst all the diaper changes, bottle preparation and loads of laundry, somehow my thoughts are wandering to long-ago attempted crafts and smaller needlecraft projects so I can get in a little bit of crafting while still feeling accomplished.
(Could also be that I'm feeling older and with a child to pass on the love of all things crafty I need to get busy learning it all.)
Bring it on.
I played around with embroidery when I was about five. In junior high I was a plastic canvas addict. In elementary school I painted and made sequined ornaments in various styrofoam shapes from kits. In high school I pursued making clothes for my wardrobe. In college I took up counted cross-stitch. (Remind me to finish that one of Victorian houses some day.)
Through these creative paths I hazily remember being taught knitting and crochet. I didn't keep up the education, though, as sewing (and then majoring in business in college) took my attention away.
I've longed to know how to crochet so I can create pretty collars on mid-19th century bodices, and Regency reticules, and trims for all sorts of things! This is still on my "someday" list of stuff to learn and do….
But very recently I've found myself pulled towards knitting.
Again, it's not a new craft to me. But the appeal of being able to work a project while sitting on the sofa minding my daughter while making fun things to wear is strong.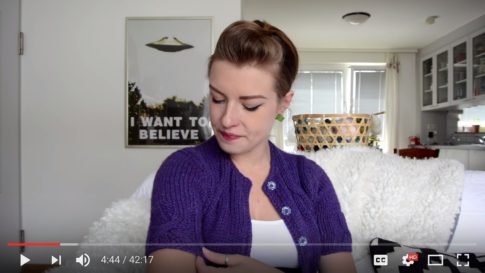 I became intrigued when Casey over at Elegant Musings started doing podcasts on her knitting and sewing projects. The first one was inspiring but when she appeared in a purple sweater in the second one I just HAD to have one of my own. Hello?! Purple!! And to get one myself I need to know how to knit.
So in the last week or so I joined Ravelry (JenRosbrugh) and purchased my first knitting book: I Taught Myself Knitting.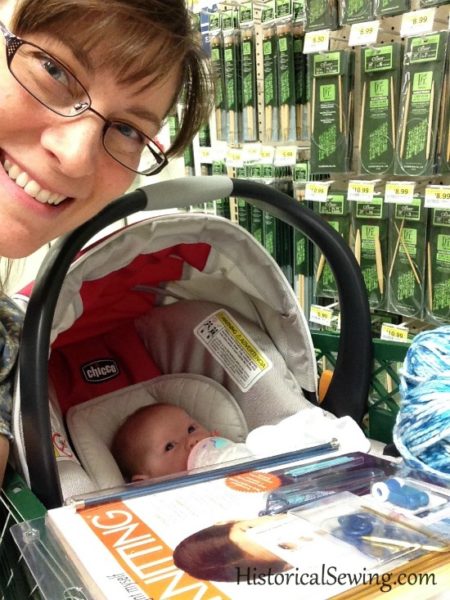 I'm not usually one to buy the "starter kits" for crafts… but remember I have a newborn.
I need simple. And easy.
My daughter was calm enough that morning to join me in JoAnn Fabrics to look at knitting supplies. The starter kit and two skeins of some cool variegated blue yarn followed me home.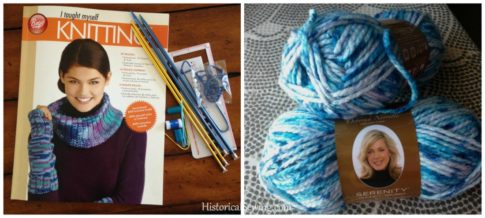 Then I had several friends give me recommendations such as Elizabeth Zimmerman's books and also the learning site KnittingHelp.com.
On top of this I've been searching for "knitting bags" to hold those future projects. You know… a quirky bag I can sew to hold my knitting. 😛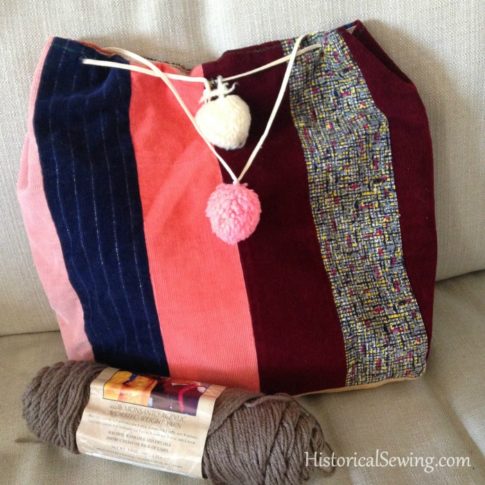 Then I remembered I had one already! This craft bag was my mother's in the 1950s. Made from corduroy strips she gave it to me long ago to hold my own few skeins of yarn and craft work. I still want to make a new one for myself, but it'll do splendidly until then.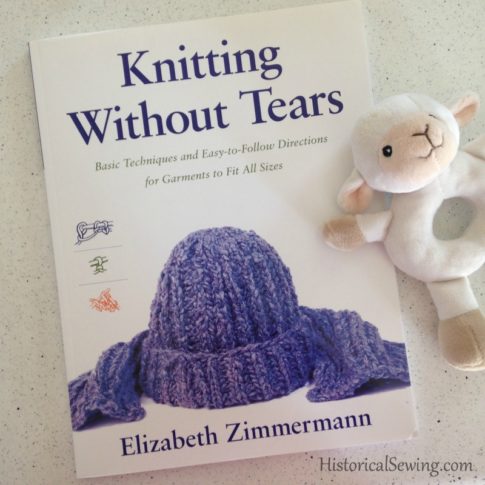 Today my Amazon order of Knitting Without Tears arrived. Yay – new book!! I'll take that into my learning phase along with the starter kit book & dvd as well as other tutorials online.
Time to get going!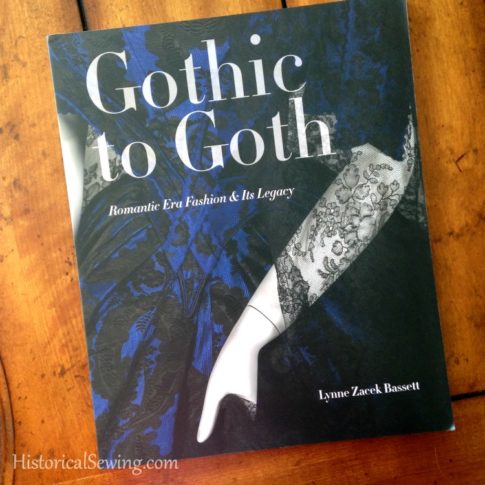 P.S. Not to exclude or forget my first love of sewing and historical fashion, I also ordered the drool-worthy catalog book from this year's exhibition Gothic to Goth: Romantic Era Fashion & Its Legacy at the Wadsworth Atheneum Museum of Art.
I'll start my sample knitting swatches right after I drown in the deliciousness that is in this book… 😀