I love the Valentine pink satin used for the bridesmaid dress in this 1909 plate from Journal des Demoiselles. The deep fringe on the sash and her HUGE hat with black feathers is just stunning.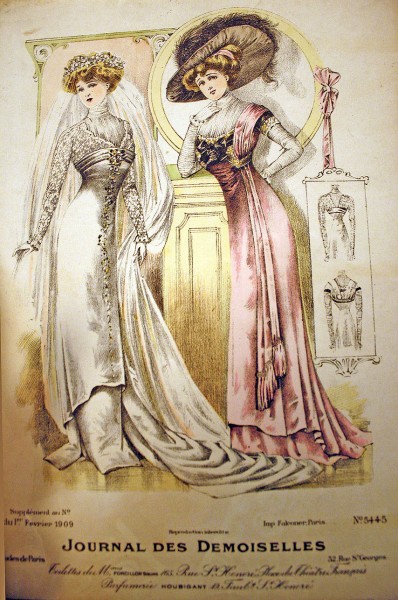 To achieve this smooth figure, wear a long corset and princess slip. A thin pad at the bum and a corset cover with rows of ruffles sewn at the bust will help with the S-curve shape.
Both gowns have underskirts.  To save money on expensive fashion fabric, attach just the lower half of the underskirt to a underlining that goes up to the waistline.
The bridal lace sleeves and yoke can be cut from a kimono pattern with the tucked inset following the top of the sleeve down to the wrist. Or for a simpler sleeve, a single dart can be taken to shape the fabric to the shoulder and with only one seam under the arm.
How elegant!