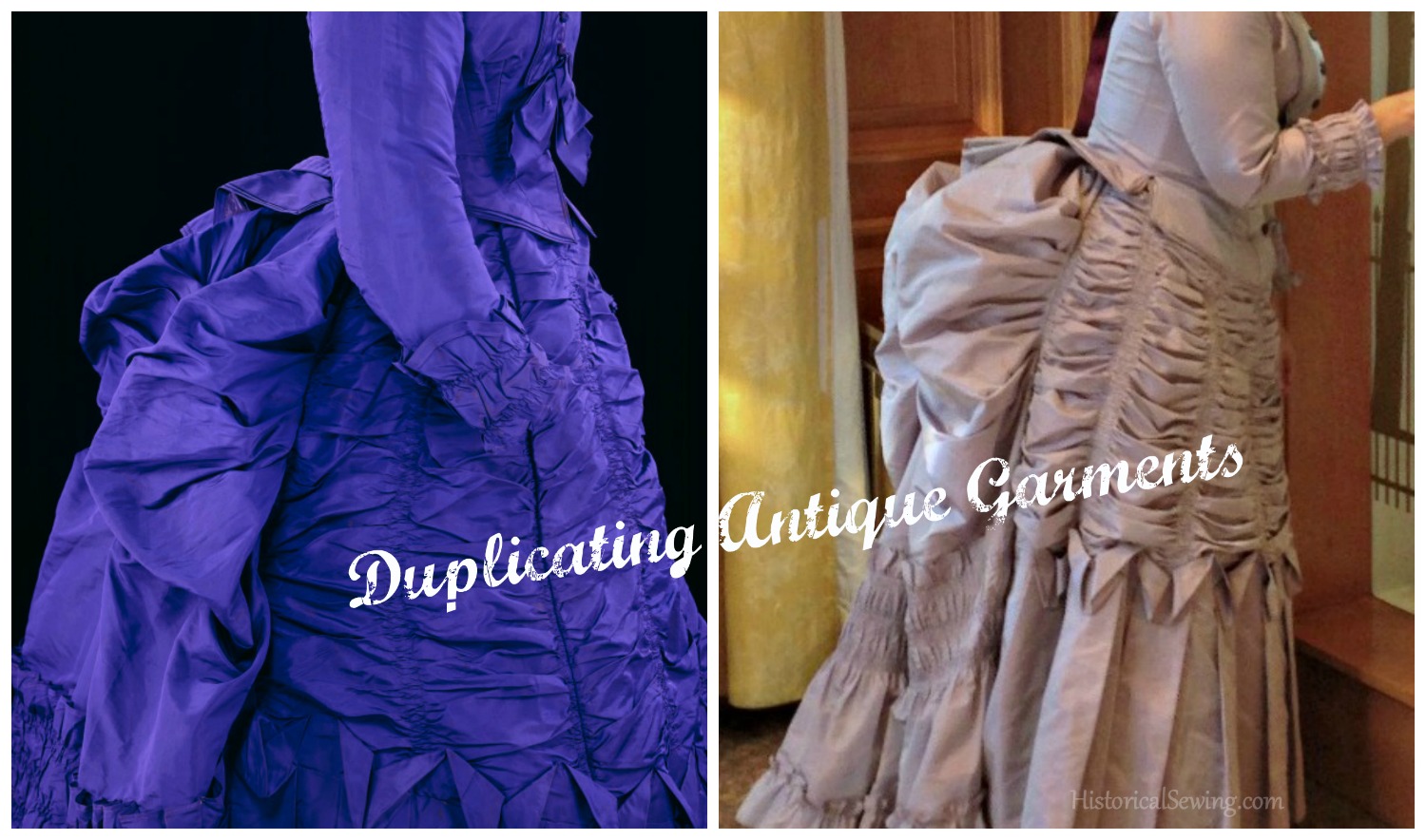 It's a most wonderful thing to study antique garments then create your own reproduction based on your research! Our ancestors were wise when it came to sewing up their clothing.
But then again…. It was only their clothing.
We modern day costumers look at antiques with such reverence. We want to know their secrets. How they sewed a seam or finished a trim or pleated a ruffle.
So at what point does the admiration become obsession that even our own creativity suffers for it?
In my opinion: Be careful when trying to duplicate a garment from a scaled pattern printed in a book or an existing garment down to the stitches and fabrics. I believe this staunches the flow of our own individual creativity existing today with our current skills and available materials (and even budget for that matter).
Be aware, especially, if what you want to copy is a simple line pattern with construction methods used for that specific garment.
Yes, it is historically accurate, but is someone's sewing from 150 years ago what you want? Remember, they were simply making their clothing. Every day pieces to protect their body from the elements and show off their personality. It wasn't to exhibit in a county fair or model on the costume con stage.
Past dressmakers pieced their work. They made uneven stitching. They had to leave for the ball in an hour. (Don't we know how THAT is?!)
We look at historical garments with awe. "Let's do it exactly how they did!" That's a great goal. An awesome goal.
But let's not leave ourselves behind in the process.
Keep in mind where the original dressmaker was coming from. What their goal of the garment was.
We 21st century costumers want to make them accurate but can't always let go of our modern "perfectionistic" ideas. We want the dress to be well made. To have hems finished correctly and neatly. To have the fabric surround our figure in the best fitted manner. The originals may or may not have had this.
You must ask yourself with every reproduction project how much do you want to copy the original and how much you can "fudge" on certain areas because the technique is just not what you want (or your skills simply can't match it yet).
When attempting the patterns from books like from Jean Hunnisett, Norah Waugh, Nancy Bradfield, or the long-loved Janet Arnold books, take into consideration of how the original was constructed… then add your own flavor and personality and skill into YOUR project.
Or, really… what's the purpose of being creative in the historical costuming field??
Only try to duplicate, in exact form with patching stitches and mismatched seams, if that is your goal. Or if you won't become frustrated with the project because it doesn't look "perfect" to your modern eyes.
It's a worthy goal to reproduce an existing original garment. It's another aspect to forget that it's YOU re-creating it.
We can step into the past through making and wearing the clothing styles of generations past. It's fun! Challenge yourself to do so. But keep your head in that it won't be *exactly* as before.
Have you attempted to re-create an antique garment but realized it couldn't be done? What did you learn from the process? Share your project below!