I've had several people ask me about my Duct Tape Double dressform. (You may have seen it in some of the photos I post.) Here is how the dressform came about.
A couple years ago I decided I wasn't going to procrastinate any longer, wasn't going to wait until I lost those few extra pounds, nor keep debating with myself over "corset/no corset" before I re-did my dressform. Enough of waiting!
My 1st Duct Tape Double: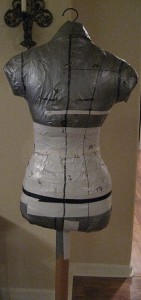 I made my first Duct Tape Double dressform in 1998. (You can read about my experience (and an early online review) at Leanna's dressmaking studio site. Scroll down and click on "Jennifer – Stand and Taping Ideas.") I used Leanna's instructions for both the first form and the re-do (below). In 2008 Threads did an article on custom dressforms and included one from duct tape.
That form was good back then. It served me well despite the fact that I kept my hands on my hips during the taping so the shoulders were raised out of place. This caused issues when trying to fit garments over that area. 'sigh'
So for the last few years I had said I wanted to re-duct tape myself for a better and more accurate dressform. I woke up on a Wednesday and told myself I would be doing it that very weekend. No more procrastinating!
Two t-shirts combined to make the layer next to the skin.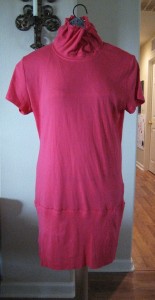 A quick trip to a discount store brought me rolls of silver tape, beige tape and stuffing. I also picked up two cheap t-shirts for the tape to go on. (You wrap your body over the shirts which you then cut through both the tape and shirts to remove the form.)
I wore a modern bra for the taping. I really went back and forth on this one as I make so many Victorian dresses and having an already corseted form for draping would be nice. In the end I went with modern undergarments as I make modern clothes for work as well
It took about three hours for my husband to wrap me (keeping my arms down at my sides of course!) and another two to drape it over my current form and stuff to fill out the new layer. I will say that it was much easier this second time as my fitting skills are SO much better than before. (And that includes my time spent in fashion school a couple of years after the first form was made.)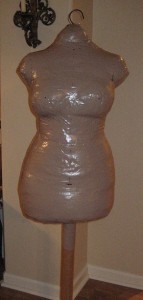 Measurements were taken before we cut the form off. As I stuffed and taped up the back I took the same measurements so the form was my perfect size (despite it not being my ideal size. Custom sewing is so clothing can fit YOU perfectly; NOT display a number dress size.)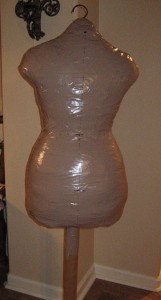 I think the best thing about having a true dressform again is for draping and pattern fitting over the back (a hard-to-fit spot when sewing alone) and getting the armhole cut just right for movement (crucial when making well-fitted historical clothing).
And even though corsets will alter the body shape, the upper back won't change much. With time, patience and a good mirror or two, I can manage fitting issues on the front. Even having the hips the right size will help skirt fitting when I throw on a bustle or hoop and petticoats.
I've debated doing a 3rd form over my corset and starting from scratch. But with so many other projects and life going on, it may be awhile.
Have you made a custom dressform? Have you duct taped yourself or a friend to make your own dressform?