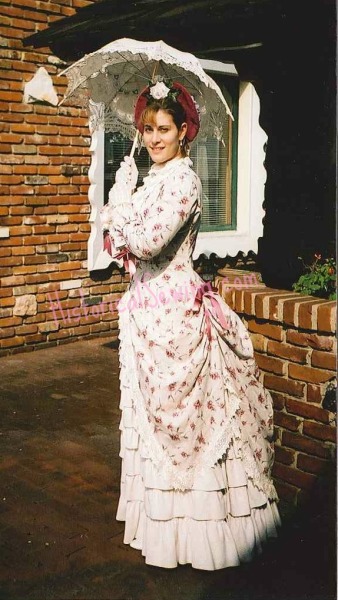 Do you remember your first true historical costume? Did you like it?
My first Victorian gown was made specifically for the first Costume College year I attended (in 2000) for the Sunday Fantasy Tea that year.
Since I had been making my own clothes from the time I was in junior high (mid-1980s) I knew I had decent skills to tackle a Victorian project. Being in love with ruffles I was determined to complete the uber-popular 1880s Polonaise and Walking Skirt from Past Patterns.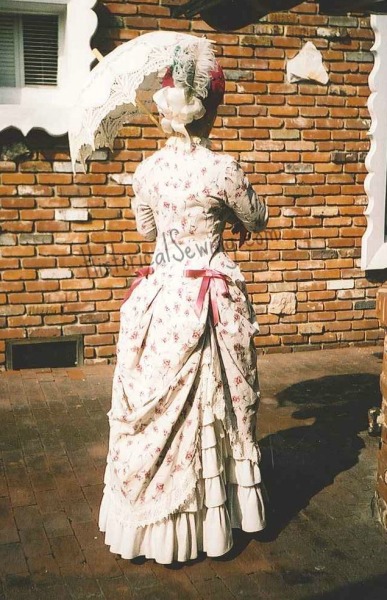 Prior to making the dress, I successfully made my first set of undergarments (chemise & drawers) as well as a corset earlier that year with the help of new friend who later became a mentor as I pursued the depths of historical costuming.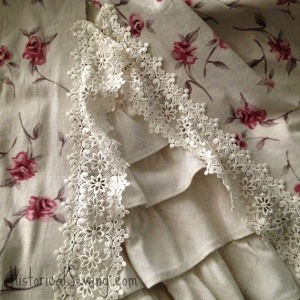 At the time I don't think I had yet experienced the fantasyland that is the Downtown Los Angeles Garment District so went shopping where I worked – JoAnn Fabrics. The store yielded a beautiful linen/cotton blend in a natural linen color with a printed rose design which I fell in love with immediately. (I really wish I had more of it.) For the ruffles I decided on a linen/poly blend that matched.
As I was putting the dress together I DID get the opportunity to visit Downtown… and my jaw hit the floor when I could purchase the gorgeous 2.5″ lace for only $2/yard. I also got a yard of China silk for the pleated neckline fill-in.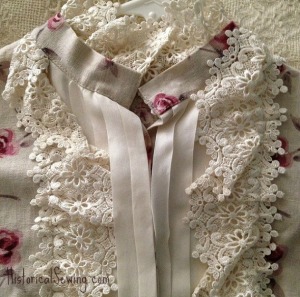 The dress was easy enough to make. And yes, I did machine hem all ten rows of bias cut ruffles. Whoa! THAT was a learning experience! They are all sewn to a basic, unbleached muslin base.
Not wanting to pink the raw edges or use my serger, I started to hand whipstitch them for finishing. I only got a couple seams done before the event and it still hangs that way in my closet today.
Because this was my first dress I didn't have boning in any seam, nor did I flatline any part of the bodice for stability – two things that have become basic steps in my Victorian gowns today.
I LOVE this dress! Not only is it my first Victorian gown where I started dressing up to bring the past to life, but simply because it's romantic! Ruffles and lace and roses – oh yes!
That year at Costume College, and the ones after, I learned a great deal about how to make the dress better:
I really need a hat as this is a day dress. So later I made one from scratch with buckram, wire and raspberry velveteen. 🙂
Even with a heavy linen/cotton fabric, being Victorian it still should have been flatlined with muslin and boned. Of course.
What was your first Victorian gown?